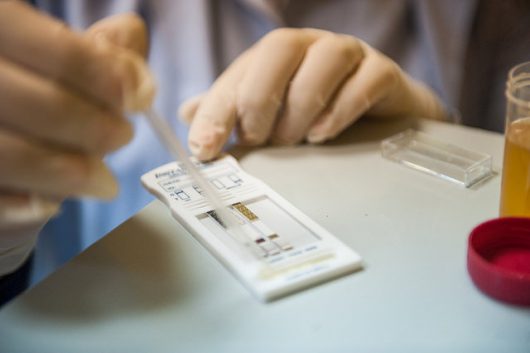 On Aug. 5, the United Nations Development Programme (UNDP) and the Global Fund announced a $30 million grant to prevent the spread of HIV/AIDS in Angola, as well as improve coverage of therapy and treatment.
In 2014, there were 300,000 people in Angola living with HIV and 26 percent of adults received antiretroviral treatment coverage. The grant for HIV/AIDS seeks to solve challenges like the elimination of mother-to-child transmission, adherence to antiretroviral treatment and prevention for young people.
The grant for HIV/AIDS in Angola will also increase coverage in several areas like antiretroviral therapy, testing and counseling and the promise of long-term treatment. Antiretroviral therapy recently proved itself to be an effective way to suppress the HIV Virus and prevent the disease from progression and transmission to more people.
This course of treatment is particularly effective at reducing death and infections when performed in a regimen.
The grant also seeks to include key populations into its strategy for HIV/AIDS in Angola. The grant has a strong focus on sex and reproductive health education and rights including HIV for adolescents, youth and girls. According to the WHO, the strategy is to increase the amount of "HIV-positive pregnant women on antiretroviral therapy."
The national strategic plan for key populations in Angola also includes "sex workers and men who have sex with men." The grant includes funds for a legal environment assessment and will propose steps for strengthening the human rights environment to create a more effective HIV response. According to the UNDP, training is provided for "health workers, prison workers and police to reduce stigma and discrimination" towards these key populations.
The grant for HIV/AIDS in Angola will run from July 2016 to June 2018 with a focus on preventing future spread of the disease within the country and lowering the numbers of people living with HIV/AIDS.
– Taameen Mohammad
Photo: UNDP
https://borgenproject.org/wp-content/uploads/The_Borgen_Project_Logo_small.jpg
0
0
Clint Borgen
https://borgenproject.org/wp-content/uploads/The_Borgen_Project_Logo_small.jpg
Clint Borgen
2016-09-17 01:30:56
2020-06-13 13:37:09
UNDP and the Global Fund Sign Grant for HIV/AIDS in Angola