Panel Discusses the Millennium Development Goals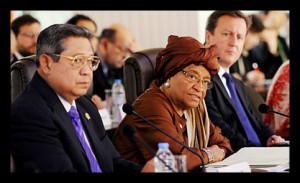 Last Friday, a high-level United Nations panel met in Liberia to discuss the UN Millennium Development Goals, one of the few successful international efforts aimed at addressing poverty, beyond 2015. Co-chaired by President of Indonesia Susilo Bambang Yudhoyono, President of Liberia Ellen Johnson Sirleaf, and Prime Minister of the United Kingdom David Cameron, the panel made up of 27 world leaders is part of Secretary-General Ban Ki-moon's post-2015 initiative to discuss international development targets and advise on how to focus the international community's efforts to end extreme poverty.
Started in 2002, the eight Millennium Development Goals of the UN Millennium Campaign are: End Poverty and Hunger, Universal Education, Gender Equality, Child Health, Maternal Health, Combat HIV/AIDS, Environmental Sustainability, and Global Partnership.
The objective of last Friday's discussion was to renew, replace and replenish these goals and their sub-targets.  Present at the conference was Save the Children advocate Brendan Cox who commented that the members of the panel mostly differ on the foci of the new framework. "In our view, the framework can do lots of things: advance debates, encourage a normative shift, start to redefine development – but at its core must be abolishing absolute poverty in all its forms. That's both because we think ending absolute poverty and focusing on the world's poorest people is the most important thing, but also because we're worried that without clear prioritization the panel and the ultimate framework will flounder, be unable to prioritize and unable to get specific. Such a framework would remain at 30,000 feet and struggle to gain political purchase if it could even be agreed."
Prior to attending the panel, Prime Minister Cameron along with President Sirleaf visited a local school in need of books and computers. Cameron asked the children what they wanted to be when they grew up, to which many answered doctors and lawyers. "That is very impressive. In my country, they all want to be footballers or pop stars," joked Cameron. Cameron made mention that he hopes to include higher quality education to be included in the world poverty goals.
Cameron has also emphasized the need to focus on extreme rather than relative poverty. "Liberia is a country that was absolutely devastated by conflict and civil war," he said. "It is now recovering but there is still desperate poverty. I think it is very important we keep a focus on eradicating extreme poverty.
"Here in Liberia, one in 10 children do not make it to the age of five. But I also think it is important we look at those things that keep countries poor. Conflict, corruption, lack of justice, lack of the rule of law. These things matter, as well as money," he said.
Key documents, reports and ongoing research on the post-2015 agenda are available on post-2015.org.
– Rafael Panlilio
Source: Post2015, UN, UN Millennium Goals, The Guardian, The Guardian
Photo:DFID
https://borgenproject.org/wp-content/uploads/The_Borgen_Project_Logo_small.jpg
0
0
Borgen Project
https://borgenproject.org/wp-content/uploads/The_Borgen_Project_Logo_small.jpg
Borgen Project
2013-02-06 15:17:36
2020-05-07 23:24:35
Panel Discusses the Millennium Development Goals