Three Nonprofits Fighting Ebola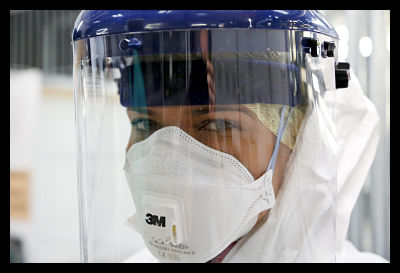 The 2014 Ebola epidemic has been the largest in history, affecting multiple countries in West Africa. While only one death has been recorded in the United States, Ebola has caused over 5,000 deaths in Sierra Leone, Guinea and Liberia alone. Many organizations have now shifted their focus to combat this treacherous disease. Here is a look at three nonprofits fighting Ebola.
1) Doctors of the World
Mainly working in Liberia and Sierra Leone, Doctors of the World is aiming to prevent the transmission of Ebola and the spread of the disease within the two countries. Previously, the organization has worked in Liberia for over 10 years and is now providing medical assistance to overwhelmed healthcare facilities. They are training local health workers to protect citizens by raising awareness and conveying tips to prevent Ebola in communities. In addition, Doctors of the World is teaching people how to identify patients with Ebola and is providing medications and psychological support. As an international humanitarian network, the organization is swiftly moving on to more West African countries to halt the transmission of Ebola.
2) Global Health Ministries
In collaboration with the Ministry of Health in Liberia, the Lutheran Church in Liberia and multiple partner hospitals, GHM is responding to the Ebola outbreak by providing personal protection equipment, such as masks, gloves, hand sanitizer and more. The organization has already sent out several suitcases and pallets of PPEs to Liberia via air freight. Through donations, GHM hopes to continue sending basic protective gear to Liberia to diminish the chances of contracting Ebola, especially by health care personnel.
3) Mali Health Organizing Project
In late October, Ebola spread to Mali, infecting dozens of people and putting even more at risk. In coordination with the government, the Mali Health Organizing Project became equipped with staff that can address the outbreak. They have installed sanitation kits in each clinic in Mali, in addition to providing trained health workers. Moreover, Mali Health has launched an Ebola radio program, where citizens have access to the most up-to-date Ebola information and can call to get their questions answered by medical professionals.
– Leeda Jewayni
Sources: CDC, Doctors of the World, Global Health Ministires, Mali Health
Photo: Flickr
https://borgenproject.org/wp-content/uploads/logo.jpg
0
0
Borgen Project
https://borgenproject.org/wp-content/uploads/logo.jpg
Borgen Project
2014-12-04 04:00:20
2020-07-18 05:01:13
Three Nonprofits Fighting Ebola