The Cycle of Poaching and Poverty in Botswana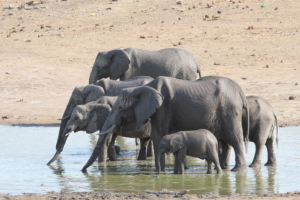 Botswana is home to roughly one third of all of Africa's wild elephant population, largely thanks to governmental bans on big game hunting. While other African countries kept more lenient laws in place, many elephants fled to Botswana seeking refuge, leading to the large concentration of elephants in Botswana. However, on May 22, 2019, the Ministry of Environment released a report stating that sport hunters would once again be allowed to hunt elephants after the five-year ban. This means that the cycle of poaching and poverty in Botswana will continue until action is taken.
Poaching by the Numbers
According to National Geographic, elephant populations across Africa dropped by thirty percent between 2007 and 2014. In the years since 2014, Botswana has only suffered more losses to their elephant population. A study published in the scientific journal Current Biology found that elephant carcasses in the years between 2014 and 2018 increased by around 600 percent. Considering that the hunting ban was only lifted in May 2019, this means that the significant increase in elephant deaths can partially be attributed to illegal poaching.
Why Illegal Poaching?
Illegal poaching, especially of elephants, has become a relatively lucrative industry in Africa as demand for ivory in Asian countries remains high. Illegal poaching creates jobs for people living in rural areas where other opportunities may be scarce. The lax enforcement of poaching bans and environmental regulations contributes to the cycle of poaching, but the larger issue is the lack of opportunities for people in rural areas to participate in legal, sustainable ventures.
Ecotourism, for example, is one way in which African countries can profit off of protecting their natural resources. Poaching threatens the very animals and environment that attract so many tourists. While a successful ecotourism industry requires investment in protecting and preserving land, it is a more sustainable (and legal) way to create sustainable jobs in more rural areas. According to the journal Nature Communications, elephant poaching causes African nations to lose the equivalent of 25 million USD each year in revenue that could have been brought in via tourism and conservation efforts.
The Link Between Poverty and Poaching
Poaching and poverty in Botswana is a cycle that hurts the environment, the citizens of Botswana and the economy as a whole. Creating and enforcing stricter poaching laws will not stop illegal poaching as long as there are no other job opportunities for people. A study published in the Nature Communications journal suggests that enforcement of anti-poaching laws will only be successful if the efforts are matched with measures to reduce poverty and corruption.
While poverty in Botswana decreased from 30.6 to 19.4 percent between the years 2002 and 2010, rural areas are still struggling to implement sustainable economic practices. The connection between impoverished communities and poaching levels demonstrates that poaching is driven by economic necessity; investment in rural and impoverished areas could serve to break the cycle of poaching and poverty in Botswana.
Looking Ahead
As poaching in Botswana threatens both elephants and the economy, several conservation groups have been conducting research and collecting data to make the government more aware of the issues associated with poaching. Elephants Without Borders (EWB) is a non-profit group based in Kazungula, Botswana that has provided recent data regarding elephant carcasses in Botswana and surrounding nations. By tracking migratory patterns and identifying elephant populations, EWB seeks to protect elephant habitats and educate the public about this important species. So far, EWB has implemented tracking collars on 170 elephants that travel across five African nations. This data can help scientists understand how why and how elephants migrate and choose habitats.Groups such as EWB are key components in the effort to eliminate illegal poaching in Africa.
– Erin Grant
Photo: Flickr
https://borgenproject.org/wp-content/uploads/The_Borgen_Project_Logo_small.jpg
0
0
Kim Thelwell
https://borgenproject.org/wp-content/uploads/The_Borgen_Project_Logo_small.jpg
Kim Thelwell
2019-09-01 15:11:08
2020-01-08 15:01:16
The Cycle of Poaching and Poverty in Botswana