Tech Revolution in Pakistan Transforms A Province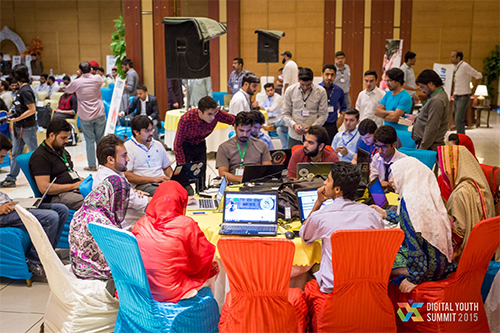 With around 53 million Pakistanis being under the age of 30 (60 percent of the population) this large conglomeration of youth presents a ripe opportunity for fostering future growth and development in this country's technology sector.
The northern province, Khyber Pakhtunkhwa, seems like an unlikely place for a tech revolution to occur due to current challenges in security, governance and limited opportunities, which have created instability through few economic and employment opportunities, ultimately crippling a young person's emergence into adulthood.
However, this tech sector offers a creative space for young minds to generate new ideas, increasing possibilities for "common business, social, civic and political challenges."
An article in the World Bank describes this potential for a tech revolution in Pakistan in more depth, explaining how technology is able to transcend geography through its access to the online world.
"Global connectivity and a growing digital economy mean that KP's youth can connect to jobs available online. And a greater number of free courses and online training means budding entrepreneurs can be found just about anywhere. In 2013, the Government of KP, in partnership with the World Bank, devised a strategy to focus on linking its youth with global employment opportunities and to promote the empowerment of tech entrepreneurs. Two years later, Peshawar is emerging as one of Pakistan's tech hubs and its image and the image of local youth is changing."
The real change began when the focus shifted to concentrating on the people who were behind the coding and building apps, says the World Bank.
By creating the Digital Youth Summit (DYS), "a co-organized tech conference between local partner Peshawar 2.0, the KP IT Board and the World Bank," opportunities were created for "networks, community building and vibrant discussions on themes of innovation, entrepreneurship and freelancing."
Due to the exciting hands-on training, workshops and world-renowned speakers from the business startup and tech communities, the tech conference has gained popularity. It has brought together 500 people and reached a potential 1.2 million through global social media channels, says the World Bank.
It is only through these conferences and events that a broader strategy for generating employment opportunities can be created, which ultimately reaches its goal of instilling pride in the local youth. Only through support from the community can innovation, entrepreneurship and financing fund the future for the tech revolution in Pakistan.
– Nikki Schaffer
Sources: World Bank, Digital Youth Summit
Photo: World Bank
https://borgenproject.org/wp-content/uploads/logo.jpg
0
0
Borgen Project
https://borgenproject.org/wp-content/uploads/logo.jpg
Borgen Project
2015-10-18 01:30:01
2020-06-25 21:45:42
Tech Revolution in Pakistan Transforms A Province