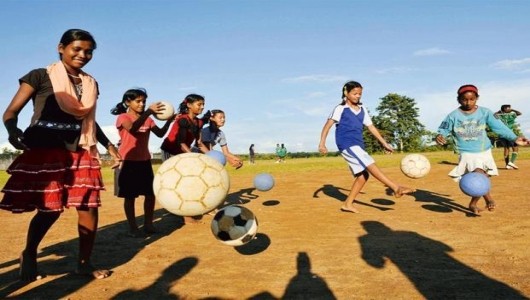 India currently has the highest number of child brides on the planet, with 47 percent of girls married before they turn 18. The practice is more common in rural areas. In some states, the number reaches 69 percent. The rate of marriages is increasing for girls between the ages of 15 and 18.
There are many factors that account for this high number of child brides. Oppressive gender roles in India's patriarchal society make it difficult for girls to pursue other options. They are typically expected to be mothers and care for the entire household. Girls often receive little schooling and have lower rates of literacy. It can be difficult for them to find work and become financially independent, so they have no choice but to marry young and depend on their husband while being burdened with domestic responsibilities. Families may also push girls to get married young out of concern for their safety and "honor."
Child brides face risks to their mental, physical, and emotional health. Since many become pregnant at a young age, they are more likely to die in childbirth. They also have a greater chance of contracting HIV. They suffer more domestic violence: Indian child brides are twice as likely to be abused than girls who marry after 18. They also face higher rates of sexual abuse, and often exhibit symptoms of Post Traumatic Stress Disorder such as hopelessness and depression.
The Yuwa organization, an NGO based in the state of Jharkhand, is dedicated to using football (soccer) as a means to promote social development and discourage child marriage. Citizens of Jharkhand struggle with poverty and illiteracy, and it is a dangerous place for young women to grow up. Yuwa was founded in 2009, and since the program began, it has had 600 members. Currently, 250 girls participate in the program, with 150 practicing on a daily basis.
Through Yuwa, girls can organize new football teams or join an already existing team. Players collectively choose a team captain, who is responsible for tracking attendance. If a girl suddenly drops out or shows up less and less, her teammates can contact her to help her through whatever is keeping her from practice.
Yuwa's program goes beyond football. They also work to educate girls so they can strive for a future beyond child marriage. Girls can attend their academic bridge program, which provides classes in math, science, and English, and computers. They also provide summer school and personal tutoring, and assist with transferring girls to better schools. Furthermore, Yuwa holds hour-long weekly workshops that focus on teaching life skills. These workshops are run by local female staff or other Yuwa girls, and they cover topics such as health, gender, gender-based violence, sexuality, self-esteem, and basic finances.
Yuwa's primary objective is to inspire girls to take their futures into their own hands so they can fight child marriage, illiteracy, and human trafficking. Girls and their coaches can meet with their families to discuss options beyond marriage. Although some parents are not understanding at first, and want their daughters to follow the conventional path, many change their minds and begin to push for better futures for their daughters.
The Yuwa girls have seen success on and off the field. In 2013, a Yuwa team placed 4th in an under-14 tournament in Spain, and in 2014, they were invited to Schwan's USA cup. Although football is not enough to undo all of the inequalities that Indian women struggle with on a daily basis, Yuwa's girls are helping change attitudes and inspire girls to strive for new opportunities.
– Jane Harkness
Sources: Foundation for Sustainable Development, Girls Not Brides, The Guardian, International Center for Research on Women, Yuwa
Photo: Yuwa
https://borgenproject.org/wp-content/uploads/The_Borgen_Project_Logo_small.jpg
0
0
Borgen Project
https://borgenproject.org/wp-content/uploads/The_Borgen_Project_Logo_small.jpg
Borgen Project
2015-07-06 09:52:16
2020-07-11 11:54:57
How Yuwa Empowers Girls in India Through Football