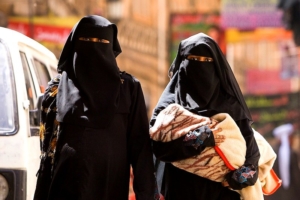 The Yemeni Civil War began in 2015 and has become a humanitarian crisis, devastating families and communities. The conflict between the Yemeni government and Houthi rebels continues with no end in sight. More than 80 percent of the population, about 24 million people, lack food, health care and safe living conditions. Those who need assistance most are pregnant women, newborns and children.
Childcare and the Civil War
The civil war in Yemen prevents the most defenseless people in Yemeni society — pregnant women, newborns and children — from receiving life-saving medical treatment on time. At MSF's Taiz Houban Mother and Child Hospital, the number of children and newborns dead on arrival at the location has doubled from 52 in 2016 to 103 in 2018. The most prevalent causes of death in newborns were prematurity, deprivation of oxygen known as birth asphyxia and severe infection.

Families struggle to find access to limited medical facilities and must navigate frontlines and checkpoints to receive care. Additionally, the Yemenis' ability to access healthcare of any kind has dramatically diminished. Due to the declining economy that has devalued people's savings, the vast majority depend on insufficient public healthcare.

Despite the conditions pregnant women and children during the Yemen Crisis are facing, several organizations aim to help these disadvantaged Yemenis receive the care they need.
Stay Safe Mama Project
The United Nations Population Fund, with help from the Kingdom of Saudi Arabia and the United Arab Emirates, has launched the Stay Safe Mama project so that pregnant women in Yemen can safely deliver their babies. As a result, 300 health facilities have been enhanced with reproductive health kits, medicine and supplies for maternity units. The project also supports midwives in local communities so that pregnant women and children during the Yemen Crisis who don't have access to a hospital can still obtain the care they deserve. Aisha, a 27-year-old, who fled the violence from her village in Hodeida and now lives in a small shack with multiple relatives and children, received healthcare through a center organized under the 'Stay Safe Mama' project.

"The care I received at the center was beyond what I expected," Aisha told representatives from UNFPA. Aisha also said that she "had regular check-ups, and when it was time to give birth, [she] was not worried anymore. [She] gave birth to a healthy baby girl."
Responsive Governance Project
The Responsive Governance Project (RGP), with the assistance of the U.S Agency for International Development (USAID), provides instruction to improve the skills and knowledge of midwives. Additionally, RGP's main priority is to provide pregnant women and children during the Yemen Crisis access to emergency obstetrical and natal care. Dr. Jamila Alraabi, the Deputy Health and Population Minister, states that the RGP has supported her agency and local health councils to improve maternal health policies.

In speaking with Jeff Baron from Counterpart International, Dr. Alraabi said that "no one can work alone, and no one can achieve success alone. It should be a partnership, and this is our hope in Yemen, that we will not have a woman die from preventable causes."
UNICEF and Yemen
The United Nations Children's Fund (UNICEF) provides Yemenis access to health treatment and access to safe water for drinking, cooking and personal hygiene. As of August 2019, UNICEF maintained over 3,700 health centers and aided around 730,000 pregnant and lactating women by providing basic health care services. Additionally, 11.8 million children were vaccinated for measles and rubella, and 200,000 children were treated for severe acute malnutrition. Going forward, UNICEF's efforts will focus on "strengthening systems, improving access to primary health care, as well as malnutrition management and disease outbreak response, including maintaining vaccination coverage."

These three organizations are just examples of the efforts raising awareness and providing aid toward the Yemen Crisis. Children continue to be killed and injured during the conflict. Before COVID-19, 2 million children under the age of five were dying from acute malnutrition and in need of treatment. In addition to this, around 70 percent of the arriving pregnant women experience "obstructed labor, prolonged labor, eclampsia, uterine rupture or post-partum bleeding" and other life-threatening conditions. While the conflict continues, these organizations are making efforts that have helped many women and children in Yemen. 

– Mia Mendez
Photo: Flickr

https://borgenproject.org/wp-content/uploads/logo.jpg
0
0
Kim Thelwell
https://borgenproject.org/wp-content/uploads/logo.jpg
Kim Thelwell
2020-08-07 13:30:57
2020-08-08 10:42:18
Pregnant Women and Children In the Yemen Crisis