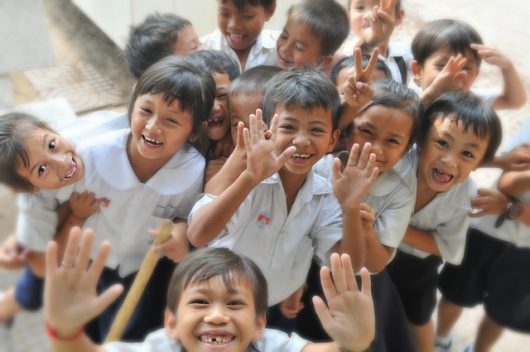 The world is changing its mindset toward poverty and realizing that poverty is not a permanent problem. Generating solutions to make poverty preventable, including providing technological tools for success, growing a population's knowledge with education and creating innovative methods for environmental sustainability create and maintain productive and growing countries.
The technological revolution, education for sustainable development and green growth are three methods the world uses to reduce poverty and build global development and ensure efficiency.
The Technological Revolution
The goal to end extreme poverty by 2030 is possible with improved technology that speeds progress and collects improved data. The World Bank currently uses technology to increase data collectors' abilities to track poverty reduction progress and citizens' well-being. The Pulse of South Sudan initiative uses tablet-based data collection to survey households and record personalized testimonials, and the Listening to Africa (L2A) initiative uses mobile phones to collect up-to-date information on living conditions with face-to-face surveys and followup mobile phone interviews. Technology such as cellphones and tablets streamline the process and is cost-efficient when reaching out to a broad sample or responding to crises.
Education for Sustainable Development
Education is crucial for global growth and progress, and it has spurred a knowledge-based movement for poverty reduction. As part of the Sustainable Development Goals, education must "ensure inclusive and equitable quality education and promote life-long learning opportunities for all," including the world's poor. According to UNESCO's Global Education Monitoring Report released this past June, 264.3 million children are out of school. About 62 million are adolescents of lower secondary school age (12 to 14). About 141 million are of upper secondary school age (15 to 17). The out-of-school rate has not decreased since 2008 at the primary level, since 2012 at the lower secondary level or since 2013 at the upper secondary level. While out-of-school rates have frozen, the world is changing its mindset toward poverty by acknowledging that education is a tool to end extreme poverty. By creating knowledge-based societies and using education as a tool, countries improve not only individual livelihoods and futures but their own economic mobility.
Green Growth
Creating sustainable, green growth not only creates economic development but addresses poverty and creates shared prosperity.Since the poor live in areas with few resources, such challenges can undermine a country's ability to sustain economic growth and eradicate poverty. Policies that not only prioritize natural resources and environmental sustainability but also address poverty are crucial to economic development. According to Inhee Chung, senior sustainability and safeguards specialist at the Global Growth Institute, "Green growth can only lead to transformative and sustainable change if it is pro-poor and delivers benefits to the most marginalized and vulnerable social groups."
The world is changing its mindset toward poverty by working to enhance policies that support the poor and create sustainable growth, as well as empower poor men and women and make green options accessible.
– Sarah Dunlap
Photo: Pixabay
https://borgenproject.org/wp-content/uploads/logo.jpg
0
0
Borgen Project
https://borgenproject.org/wp-content/uploads/logo.jpg
Borgen Project
2017-08-28 01:30:02
2020-06-24 11:17:50
Three Ways the World is Changing its Mindset Toward Poverty