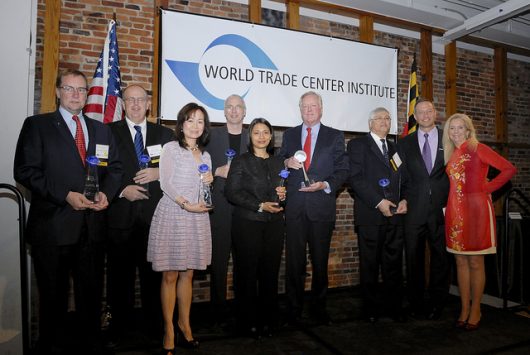 World trade proves to be a prosperous way for countries to keep good relations while benefiting from one another. World trade reduces poverty in many unique forms, allowing businesses to buy and sell their goods in an easier, safer environment while improving economic balance and structure.
Economic Benefits
According to the World Trade Organization (WTO), an economy will grow quicker and at a more consistent pace when free trade is more easily accessible. A company which earns a greater profit is more likely to hire a larger amount of people while giving their employees a stable position within the company, without fear of being laid off or fired due lack of funds or money.
WTO reports that there has been a 34 percent wage increase for companies in sub-Saharan Africa that participate in exporting goods. In a closed economy, the numbers severely decrease in amount, proving that the impact of trade can have a great consequence on each individual country. Generally speaking, world trade reduces poverty by boosting each economy and providing more opportunity for growth in any country.
Education and the World Trade Institute
With a better economy that has higher profits, this creates more money to be given to educational institutions. Not only do elementary, middle and high schools benefit, but for countries with an open market, this gives college-aged students and business owners a chance to learn the skills in trade, importing and exporting.
The World Trade Institute (WTI) provides many different programs for graduate students interested in learning the art of trading. WTI offers Doctorate and Masters programs in economics, political science or international law and economics. The World Trade Institute also offers courses and topics in trade, investment and sustainability, leaving its students with the knowledge of a successful career in trade while providing internship opportunities to gain experience and learn how world trade reduces poverty.
Reduction of Corrupt Governments
Many times, high poverty rates within a country can be a sign of government corruption or the country's leaders taking advantage of its citizens. The World Trade Organization has enabled many different plans to help fight bribery, extortion, fraud and nepotism. Through the Government Procurement Agreement, government purchases can now be tracked and watched to ensure all money received or gifted is in good faith and only used for those who are abiding by the law.
The American Society of International Law reports that citizens universally pay around 25 percent more than average for communal goods and services under corrupt governments. When the government is providing better funding for things such as housing, education or creating jobs rather than participating in questionable business deals, this opens up opportunities for the people to create a better life.
Industrialization and Infrastructure
When business owners and entrepreneurs have access to public transportation and roads, it provides an outlet that allows them to travel to and from different regions, expanding their markets and advertisements. However, when a business owner who produces a good they would like to trade does not have a simple entry into other provinces, it proves difficult for them to be able to make any money or get their product noticed.
The World Bank reports that, sometimes, increasing trade for poverty-stricken areas can have quite an easy answer; sometimes, all that is needed is a new road. The World Economic Forum states that for a continent such as Africa, it is best for nations to trade with their neighboring countries. This allows the business to trade on a smaller scale before moving on to trade with first-world countries such as China or the U.S.
Technology Brings New Trading Outlets
Technological advances have made it easier than ever before for consumers to find what they wish to buy and for business owners and product builders to "post" their brand online. This way, the consumer can have their product delivered right to their door, while the company benefits from the profit.
E-commerce sites have recently become a staple in African communities, and businesses such as Jumia have seen a rise in revenue by raising $150 million in 2014 alone. Websites like Jumia have everything a customer could possibly want or need, from electronics to fashion to grocery items. Websites like Jumia showcase how technology can bring in money and jobs, while easily marketing brands around the world.
Technology, economic benefits and industrialization are only a few ways world trade reduces poverty. The Office of the United States Trade Representative ensures that our markets are left free and open, while keeping trade agreements with countries where poverty can be most prominent, such as Africa, the Middle East and South and the Western Hemisphere of the Americas. Keeping good relations with these countries ensures economic and job growth while bringing in an abundance of goods.
– Rebecca Lee
Photo: Flickr
https://borgenproject.org/wp-content/uploads/logo.jpg
0
0
Borgen Project
https://borgenproject.org/wp-content/uploads/logo.jpg
Borgen Project
2018-04-05 01:30:19
2019-11-17 11:46:38
5 Important Ways that World Trade Reduces Poverty