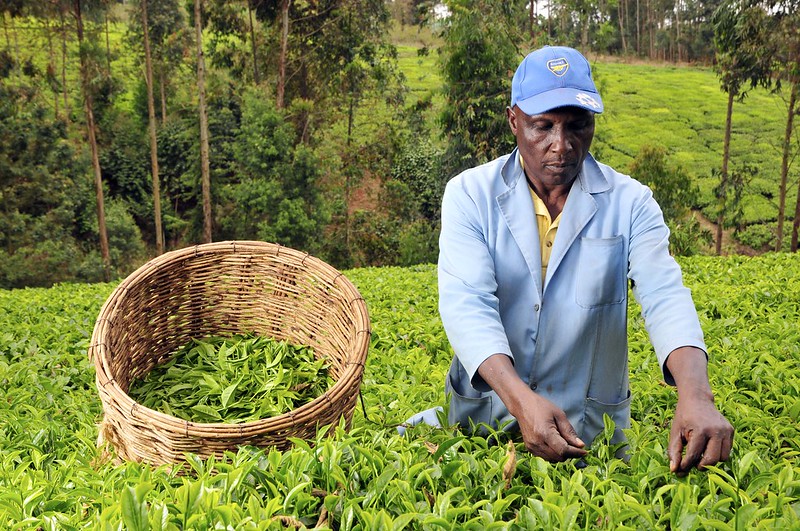 The East African country of Kenya has one of the fastest-growing economies and is a global leader in tea exports. With a significant number of Kenyans employed in the agriculture sector, the country's strong economy relies on the labor of millions of farmers. The recent push to raise wages seems to be a positive initiative to improve the condition of rural poverty in Kenya and lead the country to reach middle-income status within the next decade. The Kenya Tea Development Agency (KTDA) runs initiatives that aim to empower Kenyan tea farmers to rise out of poverty.
KTDA Raises Earnings for Kenyan Tea Farmers
The Kenya Tea Development Agency (KTDA), which was established in 1964, employs around 600,000 smallholder Kenyan tea farmers across 16 different counties. The organization works to advise farmers on the best methods of growing tea and markets the products on behalf of the farmers while allowing farmers to serve as shareholders. Following its mission to invest in the tea industry and ensure the success of small-scale tea farms, KTDA has recently approved an increase in monthly payments by as much as 17%. This comes as an important measure in the fight to mitigate weaknesses in the global tea industry as many farmers reap the consequences of climate change and oversupply in the form of reduced wages.
Providing farmers with a means of financial security allows them the ability to invest in a growing economy and promote the longevity of tea farming. True to its values of promoting ethical practices and upholding a standard of social responsibility, CEO Wilson Muthaura tells World Tea News that he believes the wage increase, "is in line with the commitment the new board has undertaken to ensure that farmers are getting earnings that reflect their hard work, and which are responsive to their everyday social and economic needs." Though the wage increase benefits a small portion of Kenyan farmers, KTDA's forward-thinking initiative could serve as an example for those involved in the tea industry as a whole.
Current State of Kenya's Tea Industry
Located in what is considered a logistic hub in Eastern Africa, Kenya's tea industry is a crucial part of Kenyan agriculture, with nearly 75% of Kenyans earning their income in the agriculture sector. In 2017, Kenya's tea exports contributed about $1.4 billion in revenue and agriculture accounted for 33% of total GDP. For major companies like KTDA, smallholder farms account for nearly 60% of all tea production.
Operating under the watch of the Ministry of Agriculture, the Tea Directorate and key research organizations in Kenya, the industry combines the efforts of producers and manufacturers to smoothly export tea leaves around the world. And while the country profits from the widespread success of the global tea trade, the majority of tea farmers still face major issues. With a lack of funding to invest in up-to-date agricultural equipment, many farmers resort to using outdated equipment to harvest crops. This often results in crops perishing before the harvest time and farmers run the risk of ruining the quality, thus contributing to higher costs of production.
Poverty in Kenya also extends to the lack of access to proper transportation, where rural areas do not have adequate roads that can connect farms to commercial areas of the country. Possibly the biggest hurdle for farmers is the lack of information about the most efficient growing methods and how to utilize updated machinery. The inability to keep up with modern farms could spell disaster for farmers who rely on large crop yields in order to make a sufficient income.
Poverty in Kenya
In 2020, estimates indicate that nearly 27.3% of Kenya's population were living in extreme poverty, surviving on less than $1.90 a day. Impoverished communities, primarily located in the northeastern region of the country, are often at a disadvantage due to their distance away from social resources. By 2039, Kenya's population is expected to reach 81 million people, nearly doubling from the current number.
And while this steady upward trend means the creation of more jobs and overall consumers, it also puts more strain on a system fighting food insecurity, unstable infrastructure and unfair working conditions. Although overall poverty in Kenya is declining, poverty continues to disproportionally affect those in rural areas.
Empowering Farmers
KTDA's increase in wages is just one of its many ways to help smallholder farmers. Acknowledging that growers often face reduced wages in circumstances out of their control, the agency also provides a number of programs aimed at helping farmers become self-sufficient. Farmer Field School (FFS) teaches classes on the latest developments in planting and preparation, incorporates diverse farming practices and provides information on managing finances.
Fully funded by KTDA, the organization runs nearly 400 classes that assist farmers in gaining access to the vital information they need to ensure their farms stay operational. By empowering farmers directly, these methods serve to better the quality of life of workers in rural areas and call attention to changes that need to occur if poverty in Kenya is to significantly diminish. In line with the country's overall mission to reach middle-income status by 2030, KTDA's move to pay farmers a living wage benefits not only small-scale farmers residing in rural communities but improves the entire tea industry.
– Nicole Yaroslavsky
Photo: Flickr
https://borgenproject.org/wp-content/uploads/logo.jpg
0
0
Lynsey Alexander
https://borgenproject.org/wp-content/uploads/logo.jpg
Lynsey Alexander
2021-07-30 01:54:00
2021-10-11 03:43:11
Helping Kenyan Tea Farmers Rise Out of Poverty