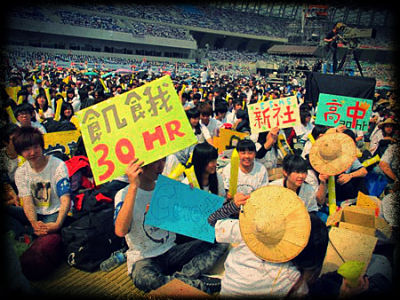 From February 2nd to 3rd, over 50,000 Taiwanese attended the 30-hour famine campaign in Kaohsiung (a province of Taiwan). This was part of a larger 30-hour famine campaign, the 30 Hour Famine Hero Rally, run by "World Vision Taiwan." It was the 24th year of this campaign, and it has been growing in strength as the years have passed.
World Vision Taiwan is part of World Vision: 30 Hour Famine, a global campaign to raise awareness of world hunger. The 30-hour famine is a worldwide experience that students, as well as anyone else, take part in once a year.
Participants gathered together and did not eat solid food for 30 hours, in order to experience what it feels like to live in poverty with scarce or no food. The 30-hour famine campaign in Kaohsiung, just like all of the 30-hour famine campaigns, had two parts: raising awareness about world hunger and fundraising for the hungry.
In the past twenty years, the 30-hour famine campaign in Kaohsiung is one event that has helped lower world hunger. The rate of hungry children has dropped by 50%. The goal of this rally was to raise $13.5 million U.S. dollars to help eradicate poverty and hunger not only in Taiwan but worldwide.
The donations do far more in disaster areas than they ever could do in countries like the United States. World Vision uses the donations to feed children and families in high-risk areas, but also teaches them how to overcome hunger on their own, and provides them with the proper tools to do it. Anyone can take part in a 30-hour famine, or host their own.
Visit the 30 Hour Famine website to learn how to host your own fasting event for the sake of world hunger.
– Corina Balsamo
Sources: Gospel Herald, World Vision Taiwan
Photo: Want China Times
https://borgenproject.org/wp-content/uploads/logo.jpg
0
0
Borgen Project
https://borgenproject.org/wp-content/uploads/logo.jpg
Borgen Project
2013-02-10 09:00:59
2020-04-05 15:32:31
30 Hour Famine Campaign in Kaohsiung, Taiwan