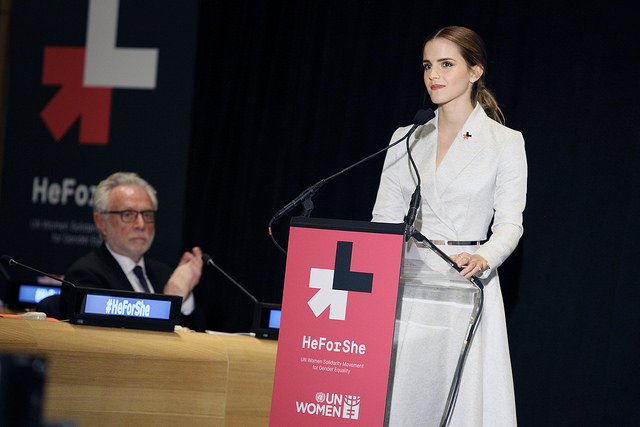 On March 8, 2016, Emma Watson turned the Empire State Building pink in honor of International Women's Day. As a U.N. Women Global Goodwill Ambassador, Watson helped launch the HeForShe solidarity movement for gender equality in 2014 and continues to keep the issue at the forefront of international politics.
In fact, Watson admitted in a February 2016 interview with feminist author bell hooks that she was taking a year off from acting to focus solely on her work with U.N. Women and the HeForShe movement.
The HeForShe movement affirms that gender equality is not just a women's issue but an issue that affects all people. HeForShe recognizes men and boys as partners for women's rights and provides a platform from which they can become agents of change towards the achievement of gender equality.
While some progress towards gender equality has been made over the last decade, major disparities still exist. The World Economic Forum's 2015 Global Gender Gap Report revealed that the global average annual earnings for women in 2015 just reached the average annual amount men were earning ten years go.
The Forum states that achieving equal pay will take 118 years if economic progress continues at its current pace.
Emma Watson has spoken around the globe on the issue of gender equality in order to involve hundreds-of-thousands of men in the movement.
In the first quarter of 2016 alone, she's started an online feminist book club, organized HeForShe arts week in New York City, unveiled a new HeForShe website and released a 26-page report in Esquire Magazine on why gender equality is an issue that involves all of us. So far, HeForShe has been the subject of more than 2 billion conversations on social media.
One of the most notable initiatives of the movement Watson helped organize is IMPACT 10x10x10. IMPACT engages governments, corporations, and universities and has them make concrete commitments to gender equality. The three IMPACT groups are made up of ten heads of states, ten corporate executives, and ten university leaders.
The participating IMPACT Champions, all male, include the Prime Minister of Japan, the President of Rwanda, the CEO of Tupperware Brands, the COO of Twitter, and the President of the University of Sao Paulo Brazil.
These individuals are committed to making gender equality an institutional priority and then sharing what they learn with other organizations so that their changes can be replicated.
Watson and the ten IMPACT corporate executives recently met at the 2016 UN World Economic Forum in Davos to unveil their Corporate Gender Parity Report. The report revealed that within the ten corporations, 71% of board members were male, 73% of senior leadership positions were male and 60% of the overall global workforce were male.
The report also revealed the impact commitments the corporations plan on implementing to achieve gender parity. They include:
Embedding gender equality in company policies through programs like mandatory bias training and male-focused gender curricula to educate and empower men as gender equality advocates;
Increasing the percentage of women in senior leadership positions through mentoring opportunities;
Creating thousands of HeForShe male champions within each company;
Reaching complete gender parity in undergraduate intake programs to build the pipeline of future female leaders;
During the presentation of the report, Watson stated that full female participation in the workforce would bring a $28 trillion boost to the global economy.
In a recent interview at the inaugural HeForShe arts week, Watson was asked what's next for gender equality and she stated, "we really want to crowdsource as many different strategies from all over the world so that we can try and build a really comprehensive guide to how we can make a tangible difference and make it happen."
HeForShe is off to an impressive start in 2016 and continues to power towards its goal of gender equality by 2030.
– Brian Zepka
Sources: HeForShe 1, HeForShe 2, HeForShe 3, Paper Mag, World Economic Forum, HeForShe Impact 10x10x10 2015 Corporate Parity Report, HeForShe YouTube Channel
Photo: Flickr
https://borgenproject.org/wp-content/uploads/logo.jpg
0
0
Borgen Project
https://borgenproject.org/wp-content/uploads/logo.jpg
Borgen Project
2016-04-03 01:30:48
2016-12-15 17:47:03
Emma Watson: HeForShe and Gender Equality