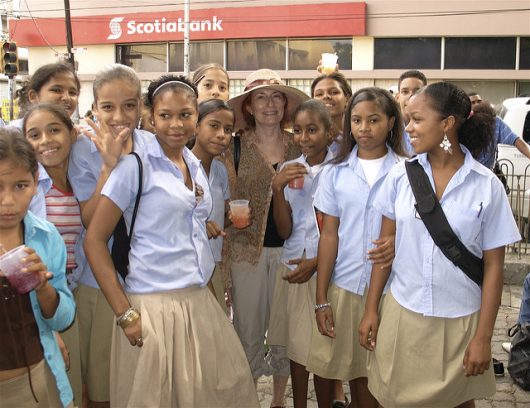 Girls' education in the Dominican Republic is faced with many challenges. The Dominican Republic has one of the highest rates of adolescent pregnancy in Latin America. For every 1,000 pregnancies, 90 are by teenage girls. Twenty-five percent of female teens in the Dominican Republic are likely to become pregnant. Regionally, only Nicaragua at 28 percent and Honduras at 26 percent have higher rates of teen pregnancy.
Healthwise, younger women may not be physically developed enough for the stress the body endures during pregnancy and birth. Socially, teens are typically not mature enough to handle the stresses and responsibilities of becoming a parent. According to many studies, teen brains are just not grown up yet.
Furthermore, teen pregnancies compromise education and lead to higher rates of dropping out of school. Financially, teens are usually unable to provide much or anything for their family, possibly creating or extending a vicious cycle of poverty for themselves and their children.
Many organizations recognize the complex issue of adolescent pregnancies and are taking steps to help empower women through education, vocational training and proper medical care and treatment for women/girls and child. Here are just four among them:
The Mariposa DR Foundation: This organization's top priority is girls' education in the Dominican Republic. It seeks to minimize the gender gap and generational poverty through the education and empowerment of young girls. The organization assists in funding the education, health and empowerment of a girl, as "she will reinvest 90 percent of her income back into her family and her community, making her the most influential figure in today's world."
Sister Island Project: This organization's mission is to foster "community empowerment, cultural exchange, diversity and equity awareness," particularly in the Dominican Republic. The Sister Island Project has also built houses for community members, given scholarships to university students, coordinated micro-enterprise projects and distributed many donations.
The DREAM Project: This organization was founded to make up for the lack of resources in Dominican Republic schools. The organization supports quality education for more than 7,500 children with 14 programs implemented across 27 communities in the nation.
World Bank Dominican Republic Youth Development Program: Its mission is to "[improve] the employability of poor, at-risk youth by building their work experience and life skills and expanding second chance education programs to complete their formal education."
World Bank senior director for education Jaime Saavedra says that "the Dominican Republic is facing a great opportunity to improve the education system and tackle the challenge of the global learning crisis. Improving the quality of education is a fundamental condition for expanding opportunities for all." The World Bank currently supports the education sector in the Dominican Republic with a total investment of $49.9 million.
Over the years, the Dominican Republic has been a great trading partner for the United States. It supplies the country with medical appliances, electric components, textiles, minerals, tobacco and produce. Many U.S. citizens are also retiring there now. The country as a whole has seen economic improvements but is still facing many educational and economic pitfalls.
Girls' education in the Dominican Republic is of great importance to each of these organizations. Their work and the work of others like them is providing the country with a much-needed boost and giving girls a much greater chance of success.
– Jonathan Jimenez
Photo: Flickr
https://borgenproject.org/wp-content/uploads/logo.jpg
0
0
Borgen Project
https://borgenproject.org/wp-content/uploads/logo.jpg
Borgen Project
2018-05-27 23:46:38
2019-10-27 18:43:51
Girls' Education in the Dominican Republic