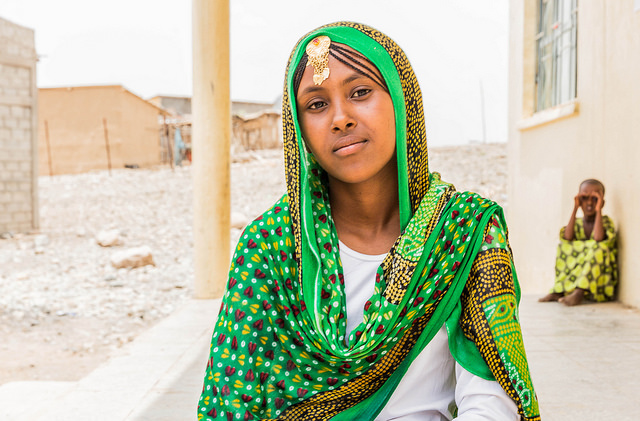 According to the World Health Organization, female genital mutilation (FGM) refers to any procedure that involves "partial or total removal of the external female genitalia, or other injury to the female genital organs for non-medical reasons."
There is no health benefit for girls or women and possible medical complications include severe bleeding, cysts, infections, difficulty urinating and issues with childbirth. The practice is especially dangerous because it is rarely performed in a medical setting.
More than 200 million girls and women from 30 different countries have been cut, and UNICEF estimates that 30 million more could be cut in the next 10 years if current trends do not change. The practice is concentrated in countries in Africa, the Middle East and Asia, with a 90 percent prevalence rate in Somalia, Guinea, Djibouti and Egypt.
Why is it difficult to stop?
Female genital mutilation is a deeply entrenched cultural practice that is often considered a coming-of-age rite of passage and is therefore performed near the start of puberty. It is believed to make girls cleaner, to improve marriage prospects, to preserve virginity and also has religious undertones. Due to the depth of its cultural significance, it is very difficult to convince practitioners – typically midwives or other locals – to cease the practice.
Those who perform the procedure also have another reason to continue – it is their livelihood. Unless NGOs and anti-FGM organizations can provide an alternative way for them to make a living, practitioners have little incentive to stop.
What is the link between FGM and education?
Regarding FGM and education, program advisor for USAID Somalia MaryBeth McKeever said that advocacy should be focused on community education communities. "These communities are composed of parents, students, teachers, school administrators and traditional/religious leaders and each school has one. The CECs have been instrumental in increasing girls' education and can help girls and women make informed choices on decisions that will impact their health, education and lives," McKeever said.
The connection between FGM and education is twofold: education and awareness about the practice and its risks and general educational attainment. Teaching young girls and women about the dangers of FGM is a powerful tool in changing public opinion and reversing the trend. However, the importance of overall education may seem less clear.
The International Center for Research on Women published a report on FGM and education that stated that, while more research needs to be done, "emerging evidence illustrates that basic education can be an effective instrument for abandoning the practice of FGM."
This research shows that women are less likely to have their daughters cut as their level of education rises. In addition, a higher level of education also makes fathers less likely to support FGM.
Education exposes students, male and female, to a variety of competing ideas and concepts and a broader worldview. This allows them to make more informed decisions regarding their own reproductive health and agency.
What is being done?
UNICEF's education initiatives with local governments – such as their support of mobile schools and boarding schools, improved sanitation facilities and better quality curriculums – all contribute to ending the practice of female genital mutilation.
Programs in Egypt aim to introduce information on FGM to medical and nursing schools because the practice is highly medicalized there. Healthcare personnel play a key role in continuing the practice and therefore could play a key role in ending it. School-based interventions across the world focus on integrating information on FGM into compulsory science curriculums.
The Global Women PEACE Foundation, a joint American and Liberian NGO, devised their own curriculum for teachers and administrators to teach them how to have conversations about FGM and reproductive rights with their students. The Tostan Education Program targets the students with a four-part plan that teaches human rights, reproductive health, hygiene and problem-solving. Safe Hands for Girls, an American and Gambian initiative, also implements outreach and advocacy training in schools.
The emphasis on school-based interventions highlights the link between FGM and education, and the important role that schools can play in ending this dangerous practice.
– Olivia Bradley
Photo: Flickr
https://borgenproject.org/wp-content/uploads/logo.jpg
0
0
Borgen Project
https://borgenproject.org/wp-content/uploads/logo.jpg
Borgen Project
2018-02-07 07:30:14
2019-11-07 04:23:56
The Link Between FGM and Education