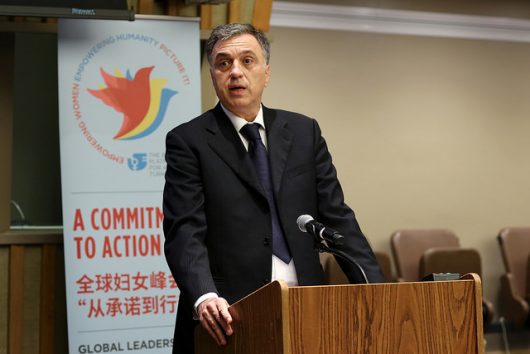 Montenegro became a sovereign state after 55 percent of the population voted for independence in a May 2006 referendum, splitting from the former Union of Serbia and Montenegro. Women's empowerment in Montenegro is at a complicated crossroads, with their fight for basic rights being heavily encumbered.
Women have topped the list of most discriminated groups in Montenegrin society for years. The statistics of violence are heavily skewed towards women, meaning every third woman in the state has experienced some form of violence. There is both political and social marginalization of women, visible through the lack of participation granted to women in formal institutions. As a result, most important decisions for Montenegrin society are made by men.
Misogyny is also prevalent in media, as smear campaigns against women and civil society activities have become commonplace in Montenegro. Lastly, the troubling economic situation has affected women the most, with many women being forced to work in the grey economy. This work exposes women to additional risks, as these jobs are not covered by insurance nor monitored by the government.
The latest Centre for Civic Education (CCE) research on discrimination indicated that more than 70 percent of citizens agree that the most important role of women in Montenegrin society is to be a good mother and wife. This illustrates the core problem and the difficult challenges that come with moving towards women's empowerment in Montenegro.
Despite these struggles, there are plans being undertaken to improve the situation. The first of these is the Time for Women's Rights and Gender Equality in Montenegro, which is a three-year project that was implemented between May 2014 and September 2016. It was undertaken in cooperation with the Ekvilib Inštitut and the Public Policy Institute, focusing on the fields of women's rights and gender equality. The overall objective of the plan was to increase the visibility of the issue of gender inequality and women's rights among the public and political actors in Montenegro.
To further women's empowerment in Montenegro, the United Nations Development Programme has implemented a project that advocates for women's and girl's equal rights. The project combats discriminatory practices and challenges the roles and stereotypes that cause inequalities and exclusion in the country. Along with this, the UNDP's goal is to support Montenegro in fulfilling its commitments of achieving gender equality and women's empowerment in the post-2015 development agenda.
With these programs instituted and the problems interfering with women's empowerment in Montenegro exposed, there will be visible improvements to women's rights and equality throughout the country.
– Drew Fox
Photo: Flickr
https://borgenproject.org/wp-content/uploads/logo.jpg
0
0
Borgen Project
https://borgenproject.org/wp-content/uploads/logo.jpg
Borgen Project
2017-12-18 01:30:42
2019-12-06 13:47:01
Progress for Women's Empowerment in Montenegro