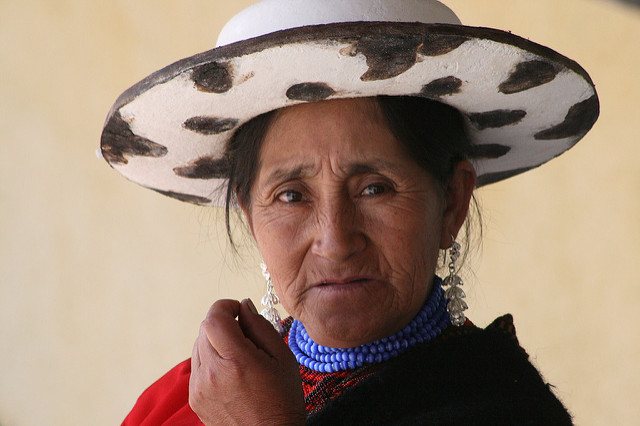 In 1929, Ecuador became the first Latin American country to grant literate women the right to vote. The right was adopted during the presidency of Isidro Ayora and was done as a buffer against "a growing socialist threat in society," as described by Marc Becker in his 1999 thesis. The change in suffrage rights was seen less as a victory for women's empowerment in Ecuador and more as a move to keep the growing feminist movement and the Communist Party in check.
According to Becker, equality wasn't a reality for these women since a patriarchal society still governed them. In addition, Spanish colonization during the 16th century had brought with it Catholic faith and spread the concept of marianismo, pure and virginal women. According to Evelyn Stevens and Tracy Ehlers, women were expected to accept the fate that was handed to them, that of being solely mothers and wives. This mentality still prevails today and entails the sacrifice of the women's wants, desires and dreams for those of their family, predominately the men's.
On April 16, 2016, a 7.8-magnitude earthquake hit Ecuador, affecting 720,000 people. The earthquake left the country in ruins but that wasn't all it did: it created a call for action, especially for women. Many Ecuadorean women felt that it was their duty to assist in rebuilding after the earthquake. A 35-year old woman named Veronica Lucas Melo stepped up, accompanied by three other women in her community. These women were determined to show their families and the community itself that women are capable of reconstructing their country.
She recalls the reaction her family had: "They said that I was going to do nothing useful there, just bother everyone. They asked me, 'what are you supposed to do in a place that's for men?'" As a mother of three children and a housewife who had never worked outside of her home, her main motivation was to set an example for her children. Another predominant purpose was the fact that the earthquake had damaged the farming ground on which her family relied so heavily. By going out to aid in the reconstruction of her country, she was advocating and bringing much-needed awareness to women's empowerment in Ecuador.
A joint U.N. program called "Cash for Work" was seeking to reactivate the local economy, and had already trained and certified 48 people from earthquake-affected communities by that time. When the program was completed, participants were registered in an employment database of local people available for rebuilding. Melo heard about this opportunity and felt that it was exactly what she needed to learn new life skills and generate income to provide for her children.
Training in stone and construction work was conducted in Las Giles and Manta with support from the Ecuadorian Ministry of Justice. One the first day Melo showed the women involved in this program that women's empowerment in Ecuador doesn't have to be scary. She did this by picking up her tool to strike down a broken wall and the other women cheered her on and joined in. The actions that Melo took were huge and it became a movement for the mutual collaboration between men and women to rebuild Ecuador. "Men began to take us seriously. They didn't see us as weak anymore and worked with us as a team," she said.
According to U.N. Women Ecuador representative Moni Pizani, the post-earthquake recovery time presented "a unique opportunity to lay the foundations" for autonomy and women's empowerment in Ecuador. "It's a chance to dismantle gender stereotypes and build more equal societies," she said.
In May 2016, U.N. Women in Ecuador organized a training workshop called, "Tools For My Personal and Business Development," in collaboration with the Ministry of Justice. It provided entrepreneurship skills to 80 women from the nearby Calceta and Rocafuerte communities.
In these training sessions, the women were taught a range of topics for setting up and operating their own businesses. According to the Huffington Post, after three days of training, many women "already had a vision of the businesses they would establish." U.N. Women has also come out in support of women's participation in shelters, police and security training as a way to prevent and address gender-based violence. Women's empowerment in Ecuador can prevent violence and ensure a better future for the country as a whole.
– Nicole Suárez
Photo: Flickr
https://borgenproject.org/wp-content/uploads/logo.jpg
0
0
Borgen Project
https://borgenproject.org/wp-content/uploads/logo.jpg
Borgen Project
2017-12-11 08:17:50
2020-01-03 19:49:54
Women's Empowerment in Ecuador Following Disaster