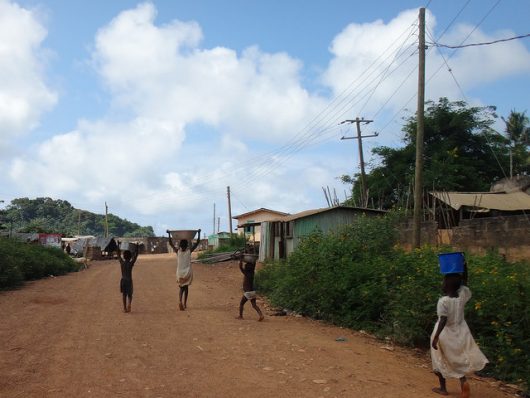 Several steps are being taken to strengthen women's education in Ghana and to also narrow the gender gap in schools throughout the country. The country is very close to achieving gender equality in primary school enrollment, which is a significant milestone. Women's access to education in Ghana past primary school, however, still has room for improvement.
Different approaches are being enacted to promote empowerment and women's education in Ghana. While some approaches are traditional and in correlation with poverty reduction and Millenium Development Goals, others are led by individuals and women trying to make a difference in their own communities.
One such individual is Adeline Nyabu. Nyabu created the Girls Empowerment League, aiming to increase attendance and boost the academic performance of young girls. This league connects girls to female role models and teaches leadership, passion for education and achievement, and shows the realistic and positive outcomes for a woman who completes continuing education. In addition, the program is designed to boost the self-esteem, confidence, aspirations, determination and self-worth of girls in an unequal society.
Another program in place is the Campaign for Female Education. This program partners with MasterCard to provide scholarships to pay for examination registration fees, uniform costs, educational materials and financial packages for girls in rural communities in Ghana. Since 2012, more than 4,000 girls have been awarded the scholarship to continue their education and are equipped to become influential leaders and scholars, in hopes that they will pave the way and be role models for other girls in situations that seem impossible to get out of.
A traditional approach to improving women's education in Ghana and narrowing the educational gender gap throughout the country is through the Girls Education Unit (GEU), part of the Ghana Education Service under the Ministry of Education. Since its establishment in 1997, GEU has made it possible to have a Girls Education Officer in every district and region of the country.
The Ministry of Education also provides training for female teachers in male-dominated rural areas and promotes girls' clubs and camps teaching empowerment, self-worth, leadership and teamwork in a female-dominated environment.
These initiatives and programs have resulted in progress towards the goal to increase women's education in Ghana, created greater access for girls and narrowed the gender gap within schools. Enrollment in both primary and secondary education has increased by around 10 percent, with a significantly greater increase in enrollment for girls. As a result, Ghana's gender parity index has improved from 0.93 to 0.95. The country can continue to build on this success to achieve complete gender parity and empower its women and girls to reach their full potential.
– Lydia Lamm
Photo: Flickr
https://borgenproject.org/wp-content/uploads/logo.jpg
0
0
Borgen Project
https://borgenproject.org/wp-content/uploads/logo.jpg
Borgen Project
2018-04-04 07:30:38
2019-11-17 11:47:09
Strengthening Women's Education in Ghana