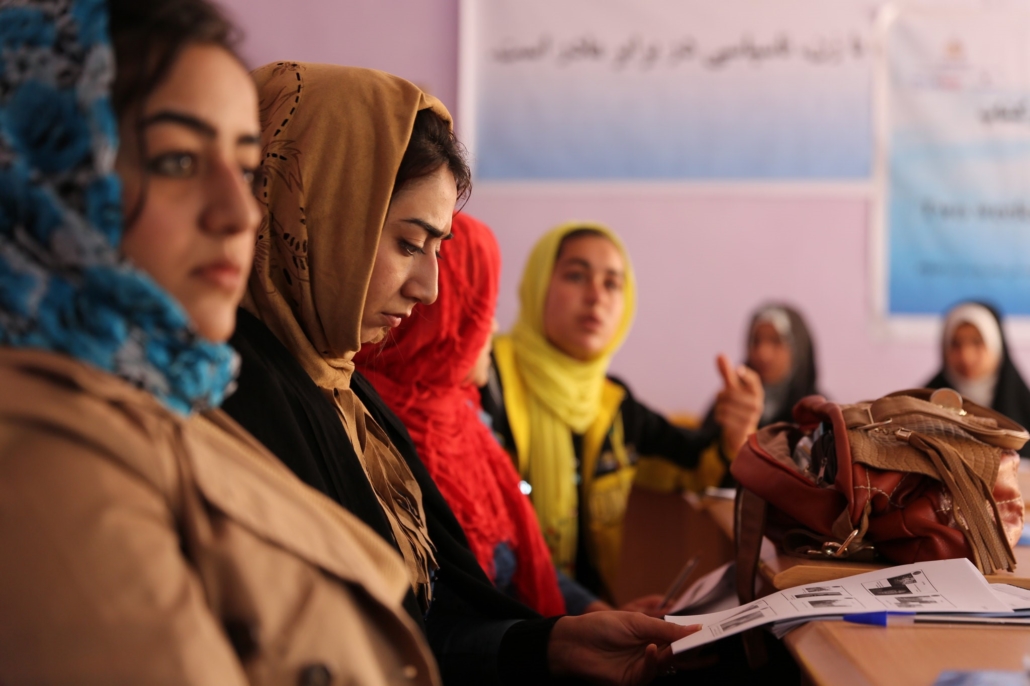 Afghanistan has been experiencing challenges economically, socially and politically. While these situations are affecting its citizens and the world, children and women are the most vulnerable members of the community, leading to many being impoverished, but there are ways that people/organizations are aiding women in Afghanistan.
About the Situation
Uncertainty has been governing Afghanistan since the outbreak of the crisis. Many escalations in violence have occurred since the impositions of new authorities. Over half a million of the population have demanded humanitarian assistance.
After 40 years of social crisis, poverty, several natural disasters and the outbreak of COVID-19 and the Taliban rule have increased poverty rates drastically. Both factors are a deadly combination for people in Afghanistan. About "50% of those in need in Afghanistan are women and girls." Summing up, the outbreak of COVID-19 has pushed thousands of people to poverty, especially women and girls, affecting global poverty rates.
Women and girls are the most vulnerable group in society. The International Rescue Committee (IRC) is highly worried about how women and girls will overcome the situation in  Afghanistan. As a fundamental human right, women's rights must receive respect. By consequence, all services must undergo proper delivery, ensuring all women and girls have access to health services, to freely work and go to school.
The Concerns of the International Community
The international community is aware that as the crisis escalates, women living in poverty in Afghanistan increase too. Levels of domestic violence, abuse and exploitation are dramatically increasing as global poverty rates are tremendously increasing. Elinor Raikes, IRC vice president and head of program delivery states, "We know that during times of crisis, violence against women and girls increases. With uncertainty mounting throughout Afghanistan, the IRC is concerned that we could see an increase in violence against women as well as an increase in child marriage."
The international community is heavily working on reducing global poverty on reducing poverty in Afghanistan. It is essential for world leaders to drive an international plan and work on the solution. Since August 2021, the international humanitarian response plan for Afghanistan has received only 38% of its necessary funding. According to data "the shortfall could mean that 1.2 million children will lose specialized protection services, making them more vulnerable to violence, recruitment, child labor, early and forced marriages, and sexual exploitation."
Challenges for Women in Afghanistan
Data has demonstrated that women are the most vulnerable group in society. Since the outbreak of the crisis, "1.4 million women, many of them survivors of violence, will be left without safe places to receive comprehensive support."
Several attacks have been taking place in small villages and schools. As a result, many girls will lack access to education. According to the report published by UNICEF, "An estimated 3.7 million children are out-of-school in Afghanistan. 60% of them are girls." Undoubtedly, girls are the ones suffering the major consequences of the crisis in Afghanistan, impacting global poverty.
The challenge of women in Afghanistan is a significant topic across the world today. The Taliban is constantly oppressing women and limiting women's rights. Thus, gender equality which had been progressing in the country has suddenly diminished as the new authorities are pushing back all the effort done. As mentioned above, many girls are not going to school and women have been limited the rights they had. As a consequence, women in Afghanistan fall into poverty as they cannot access a job.
How Some are Aiding Women in Afghanistan
The World Bank has highlighted a few of the national programs established in Afghanistan to help women and mobilize social groups. Women Economic Empowerment Rural Development Project (WEE-RDP) is the most popular national approach in Afghanistan. As the World Bank reported, "These groups help their members access financial services and start small businesses. During the COVID-19 pandemic, self-help groups have also provided critical support for health and livelihoods."
In conclusion, the Taliban's rule is becoming a major concern for the world. Undoubtedly, national and international approaches have undergone implementation with the purpose of aiding women in Afghanistan and reducing poverty.
– Cristina Alvarez
Photo: Flickr
https://borgenproject.org/wp-content/uploads/logo.jpg
0
0
Lynsey Alexander
https://borgenproject.org/wp-content/uploads/logo.jpg
Lynsey Alexander
2021-10-29 07:30:36
2021-10-27 14:46:45
Aiding Women in Afghanistan