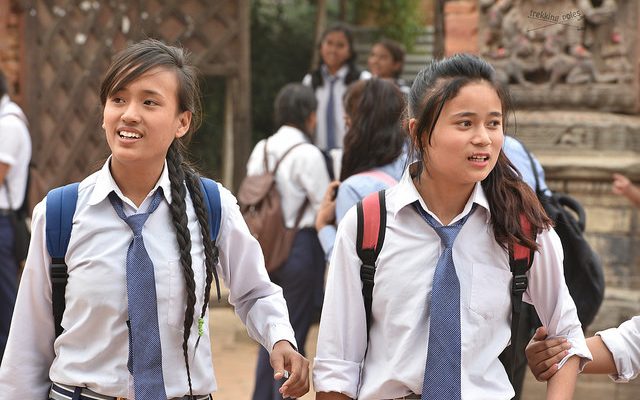 Important steps are underway towards improving Nepal's education system for girls, which may help raise Nepal towards becoming a developed nation. Thanks in part to assistance from the United States and United Nations, improving girls' education in Nepal is now a focus of the Nepali government and educators.
Girls' Education in Nepal
With only 64 percent of the Nepali people age 15 or older able to read and write, Nepal has one of the lowest literacy rates in the world. Approximately 76 percent of Nepali men are literate, while only around 53 percent of Nepali women are literate.
While educators are careful to not exclude boys in educational improvements, a special focus on academic improvements for girls is being implemented to increase the relatively low literacy rate among girls and equalize opportunities between boys and girls.
WiSTEM's Promotion of Equality
Binita Shrestha and Pratiksha Pandey, co-founders of Women in Science Technology Engineering Mathematics (WiSTEM), work with the United Nations International Children's Emergency Fund (UNICEF) to improve girls' education in Nepal.
Shrestha explains, "Even though we target girls, we welcome everyone because even boys are not receiving STEM education… The biggest reason most children don't pursue a STEM career is because they don't start learning from an early age. They tend to underestimate themselves afterwards."
WiSTEM guides children from an early age towards utilizing STEM education opportunities, which build courage and determination to stay in school and work towards a career. Among the opportunities offered through WiSTEM, students can choose workshops and hands-on experience with electronics, coding and design.
Discouraging Absenteeism
While WiSTEM expands opportunities for girls in school and increases their confidence in themselves, one of the main problems regarding girls' education in Nepal is absenteeism.
A recent study utilizing data from the 2014 Nepal Multiple Indicator Cluster Survey (MICS) reveals that marriage is the most common reason in Nepal for children quitting school. The study found that dropouts due to marriage range from fifth to tenth grade, and married girls are 10 times more likely to quit school than unmarried girls.
Social norms and security concerns in Nepal commonly prevent married girls from attending school. It is a common view in Nepal that education is unnecessary for girls beyond marriage. Even in areas with free or low-cost school supplies and easily accessible schools, married girls often stay home.
It is also common for husbands and parents-in-law to fear that married girls will be raped or abducted, and thus prevent them from traveling to formal schools.
Zero Tolerance Project
Since Nepali girls' safety is at greater risk than boys' of becoming victims of gender-based violence in school, the United States Agency for International Development (USAID) is working with UNICEF on a project for Nepal called "Zero Tolerance, Gender-based Violence-Free Schools."
This project focuses on increasing the ability of students and educators to report violence and receive assistance in areas where child marriage and violence against girls are most common.
In addition to spreading awareness of gender-based violence at Nepali schools and encouraging witnesses to report incidences, the Zero Tolerance project links together the communication network within and between schools and community service providers.
This stronger reporting network works as an alarm system to prevent violence at school, which helps girls and their families feel safer about sending them to school. This project is active in 200 schools in the central region of Nepal where child marriage is common.
Creating Opportunities
Both boys and girls need assistance in education, yet girls in Nepal face more risks than Nepali boys regarding school and may need more assistance. Hopefully, with continued support from the U.S. and U.N., Nepali government and educators will continue to focus on improving education, with extra effort for ensuring safety and equal opportunities for girls.
Overall, the more literate the men and women of Nepal become, the more Nepal changes towards becoming a developed country. According to the United Nations Educational, Scientific and Cultural Organization (UNESCO), while linking literacy rates definitively to other variables is difficult, studies show it is likely that improving literacy rates increases health, income, political participation, democratic ideals, economic growth and confidence in asserting human rights.
– Emme Leigh
Photo: Flickr
https://borgenproject.org/wp-content/uploads/logo.jpg
0
0
Borgen Project
https://borgenproject.org/wp-content/uploads/logo.jpg
Borgen Project
2018-08-15 01:30:20
2019-09-01 09:33:34
Transforming and Improving Levels of Girls' Education in Nepal