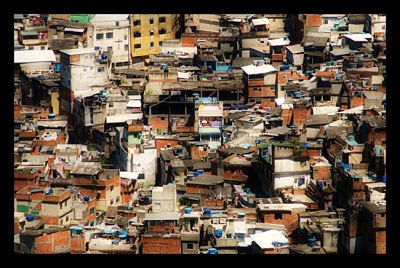 Put simply, the term "slum" refers to "a heavily populated urban area characterized by substandard housing and squalor." But why do slums exist? In an effort to include quantifiable data in the definition, a group of UN experts suggested expanding it to refer to areas that combine inadequate access to safe water, sanitation and other infrastructure, structurally poor housing, overcrowding, and an unstable residential population.
Today, slums are becoming the most obvious materialization of urban poverty in developing world cities; in Nairobi, Kenya, 60% of the population lives in slums. That 60% is crowded onto only 5% of the land.
The existence of slums is caused and sustained by a number of forces, including rapid rural-to-urban migration, insecure tenure, and globalization.
Why Do Slums Exist? 4 Illuminating Facts
Rural-to-urban migration amplifies slum formation because city planning and management systems are unable to effectively manage the considerable population influx. For perspective, consider these facts:
UN-HABITAT projects that by 2030, Africa will no longer be a rural continent, as more than 50% of its population will be in cities.
Today, 75% of the population of Latin America lives in urban areas as the result of a significantly rapid rate of urbanization since the 1970's
Asia, home to 80% of the world's population, currently sustains 36% of their population in cities.
Mumbai, Calcutta and Bangkok are home to over 10 million people; between one-third and one-half of them live in slums.
Insecure tenure means tenants are not protected from unpredictable rent increases and eviction processes. Insecure tenure inhibits opportunities for residents to acquire credit, which limits tenants' ability to improve upon their homes. A revolving door of tenants does little to inspire feelings of community or pride in one's home.
Globalization also promotes slum living. Global economic booms and busts lead to uneven wealth distribution. Historically, global economic cycles have been responsible for creating many of major city slums in the developed world, and it is likely globalization will do the same to the developing world.
Addressing slums and their contributing factors are keys to sustaining progress toward the Millennium Development Goal to significantly improve the lives of at least 100 million slum dwellers by 2020. Although the percentage of people living in urban slums has decreased from 39% in 2000 to 33% in 2012, 863 million people are estimated to still be living in slums as of 2012.
– Dana Johnson
Sources: UN-HABITAT, Business Dictionary, UN
Photo: Portal OZK
https://borgenproject.org/wp-content/uploads/logo.jpg
0
0
Borgen Project
https://borgenproject.org/wp-content/uploads/logo.jpg
Borgen Project
2013-08-27 15:11:34
2020-07-09 21:18:20
Why Do Slums Exist?