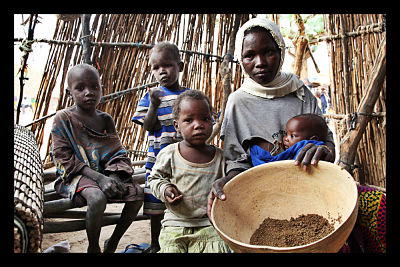 In Rwanda, poverty and hunger continue to pose a major challenge for the rapidly developing country. Based on the UNDP Human Development Index for 2011, the country ranks 166 out of 187 while maintaining one of the highest population densities in Africa. The large population puts a strain on proper healthcare as well as the already limited natural resources of the country. Although the government of Rwanda, together with the World Food Program, has found that nutrition levels and food security have been improving over the last seven years, the situation is still far from optimal.
Some of the major challenges Rwanda faces with regard to poverty and hunger could be solved by foreign aid investments or direct cash donors from developed nations and foreign aid organizations. 83.7% of the population survives on $2 a day or less, and without proper disposable income, it is impossible to support families with proper food, water, and nutrition.
Up to 90% of the population engages in subsistence agriculture. This, combined with the extreme crowding and limited access to land, makes subsistence farming inefficient.
WFP's country director for Rwanda, Jan Delbaere, weighs in on the topic, explaining that "during 2012, WFP bought 23,000 metric tons of food in Rwanda, mostly for operations in neighboring countries. This is a clear sign that Rwanda is more than self-sufficient for its staple crops. However, households with only a small area of land for cultivation simply cannot afford to access enough nutritious food to live healthy, active lives or to provide for their basic needs from their land alone."
The WFP remains committed to supporting the government in Rwanda to increase food security and food production programs, and the country itself has chosen to sign the "Comprehensive Africa Agriculture Development Program (CAADP) compact and to secure funding, thus confirming malnutrition and food insecurity as one of the government's key priorities." In spite of its food insecurity, Rwanda's GDP has been growing by 7.2% annually since 2010. With proper investment and aid, these issues can be solved, and the country set further on the right track to stability.
– Sarah Rybak
Source: WFP,Hope in Action
Photo: ESB Blog
https://borgenproject.org/wp-content/uploads/logo.jpg
0
0
Borgen Project
https://borgenproject.org/wp-content/uploads/logo.jpg
Borgen Project
2013-06-20 08:28:29
2020-07-03 00:18:57
Hunger in Rwanda: The Good and the Bad