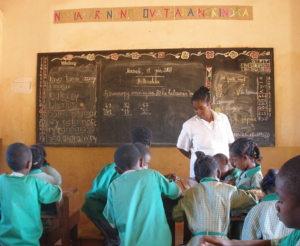 The COVID-19 pandemic has caused school closures in countries around the world, including Madagascar. Schools in Madagascar remain closed, according to the U.S. Embassy. The country already struggles with education access, specifically for children in poverty. In order to alleviate the impacts of COVID-19 on education access, the government is using existing systems to help students utilize distance learning in Madagascar.
Poverty and Education
The World Bank reported that about 1.4 million children dropped out of primary school in Madagascar in 2012. When 55 teachers in Madagascar participated in a survey, 38% said poverty was a reason students did not progress through school. With 75% of the population living in poverty, many people are vulnerable to the impacts of poverty on their access to education.
How Distance Learning Started
Madagascar's government noticed that children in poverty, specifically those living in remote areas, were often not in school. In order to address this problem, the government began creating distance learning programs in 2005. The programs were directed toward the radio because pre-tests showed that children were "glued to the radio" whether or not they were attending school. With the use of wind-up radios, students in rural areas were able to access distance learning in Madagascar even if they did not have access to electricity. After its completion in 2017, each one was about 15 minutes long. Their target was children between the ages of 5 and 9. Not only do the programs encourage children to re-enter school, but they also teach important life skills. These skills include self-esteem, getting along with others, communication, gender equality, assessing risks, decision making and protecting the environment.
UNICEF also helped develop distance learning programs in Madagascar. The organization created a radio show designed to teach things like math, life skills and literacy. The name of the show is 'O!O' and it approaches education through engaging entertainment.
Distance Learning During COVID-19
Since schools have closed as a result of COVID-19, programs for distance learning in Madagascar have been expanded. In addition to the radio, Madagascar's government is using television and Youtube broadcasts to help students access education. The radio programs are aimed at first and second-grade students. They air on both the radio and a platform called WeTransfer. UNICEF is supporting these programs.
Madagascar's television programs focus on teaching math in French to students in primary school and they are also available on YouTube. The Japan International Cooperation Agency is helping to provide support for television learning in Madagascar. In order to ramp up the production of educational television programs, The Ministry of National Education and Technical and Vocational Education (MENETP) is stepping in. The ministry is running a recruitment drive in order to increase the number of designers working on the programs.
Additionally, the media is playing a role in ensuring that students have access to education through the edutainment program Kilasy Pour Tous. In partnership with MENETP, the media is helping to make sure that educational television and radio programs air every morning.
While COVID-19 has caused many schools to close, existing infrastructure for distance learning in Madagascar has helped address access to education. Educational radio and television programs are available to students. With support from UNICEF, the Japan International Cooperation Agency and the media, these programs air every day and provide students with a pathway to learning at home.
– Melody Kazel
Photo: Wikimedia Commons
https://borgenproject.org/wp-content/uploads/logo.jpg
0
0
Kim Thelwell
https://borgenproject.org/wp-content/uploads/logo.jpg
Kim Thelwell
2020-09-11 07:30:50
2020-09-10 11:14:47
Distance Learning in Madagascar During COVID-19