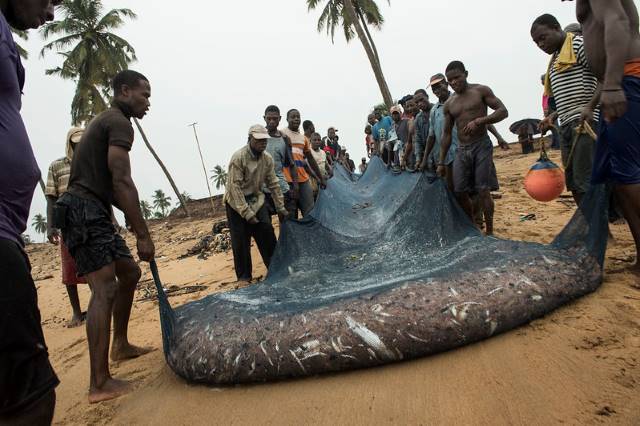 West African people rely on fish as a primary protein source and a form of income, supporting the livelihoods of close to seven million people. Due to overfishing and illegal fishing, fish stocks are dropping, and as a result, the West African population risks food insecurity and increased poverty. Roughly 40% of the region's fish is caught illegally. Overfishing in West Africa threatens to permanently hobble the economies of many developing countries in the region and destroy fish stocks for generations. In order to curb this threat, organizations are taking action.
Something Fishy
In West African countries, artisanal fishing has been a dominant career for generations. However, industrial fishing operations, mostly from China and the EU, threaten artisanal fishing. These countries use massive ships to trawl fish from the West African seas at a rate that could permanently wipe out the stock of fish in the region if left unchecked. In addition to depleting one of the region's key food supplies, illegal overfishing in West Africa steals an estimated $1.3 billion in revenue from the region each year.
Local fishers try their best to compete but continue to struggle. According to a study, boats from the EU and China fish 11 times more efficiently than local artisanal fishers in West Africa. Even when foreign nations fish legally, they hardly pay their fair share. The EU, for example, pays West African nations just 8% of the value of fish it catches. As a result of these practices, West Africa loses out on an extremely valuable resource with very little compensation in return.
Not Enough Fish in the Sea
While the long-term environmental and economic impacts of overfishing are very concerning, the immediate hunger of people in West Africa is more pressing. The region faces an all-time high level of food insecurity due to the COVID-19 pandemic and ongoing conflict in the region. The Africa Center for Strategic Studies estimates that 23.6 million people in West Africa will face crisis levels of food insecurity in 2021.
Increased food insecurity goes hand-in-hand with other economic problems. Hundreds of thousands of people from West Africa migrate to European countries in hopes of finding work, a number that continues to grow. Many of these migrants cite lack of job opportunities and inadequate access to food and other essential services as reasons for leaving.
It is imperative for West African countries to crackdown on illegal fishing in order to address the problem. Researchers from the Sea Around Us project argue that policymakers should focus on supporting artisanal fishing as it creates more jobs and is better for the environment. Furthermore, placing limits on the industrial fleet operations of other countries will return control back to the region and ensure sustainable fishing.
The World Bank's Solution
While the problem of overfishing in West Africa is daunting, organizations have mobilized to help solve the issue. The West Africa Regional Fisheries Program (WARF-P) is a three-phase initiative with a $170 million investment in the region's fisheries. According to the World Bank, the program focuses specifically on reducing poverty and food insecurity by ending overfishing.
Phase one of WARF-P saw commendable success in Cabo Verde, Guinea-Bissau, Liberia, Senegal and Sierra Leone. The program has helped shape new laws regarding overfishing and has given local fishers access to more resources. In Cabo Verde, Liberia, Senegal and Sierra Leone, the project helped register 34,000 small-scale fishing vessels in order to better monitor fishing activity. The project began in 2010 and ended in 2019.  WARF-P positively reported that illegal fishing has reduced in all beneficiary countries.
While these investments in the region are helpful for local communities, the investments fall short of compensating for the multi-billion dollar losses from overfishing in West Africa. It is vital to spread awareness on the issue and urge local governments to take action to prevent future losses. At the end of the day, proper management of these oceans falls on the shoulders of West African leaders.
Reeling it in
West Africa is a region that is very susceptible to the impacts of poverty, especially in the wake of COVID-19. Overfishing in West Africa will potentially haunt the region forever if local governments do not comprehensively address the issue. West Africa's fish belong to the people of the region first and foremost. On the bright side, the benefits of solving the problem are immense and immediate. Food insecurity will drop while local employment rises, reducing poverty in West Africa.
– Jeremy Long
Photo: Flickr
https://borgenproject.org/wp-content/uploads/logo.jpg
0
0
Kim Thelwell
https://borgenproject.org/wp-content/uploads/logo.jpg
Kim Thelwell
2021-07-05 01:30:20
2021-07-06 08:39:22
Addressing the Issue of Overfishing in West Africa