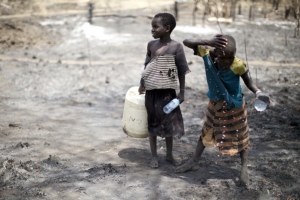 The Republic of South Sudan is located in East-Central Africa. South Sudan's current population is 13 million, and more than 50% of the population lacks proper access to clean water resources. Constant conflict and a civil war, which began in 2013, led to the current water crisis in South Sudan. During the war, the nation's water systems were deserted and demolished. The 2011 East African drought and the country's low rainfall further exacerbated the water crisis in South Sudan. As only 2% of the country's water is used domestically, the South Sudanese peoples' access to clean water is scarce. Furthermore, South Sudan's water resources are trans-boundary waters shared with other African countries. The Nile River Basin is South Sudan's primary water source, but it is shared with ten other countries. This shared ownership intensifies the water crisis in South Sudan.
Without access to clean water, South Sudanese families often drink dirty water to survive. This increases their risk of receiving waterborne diseases, such as diarrhea or parasites. Since 1990, diarrhea has been a leading cause of death for children in impoverished countries, accounting for one in nine child deaths worldwide. The disease kills more than 2,000 children every day, a toll greater than AIDS, malaria and measles combined. Currently, in South Sudan, 77% of children under the age of five die from diarrhea. In addition, the country is home to 24% of the world's lingering Guinea worm cases, a parasitic infection. Numerous water-focused charities are combating the current water crisis in South Sudan by facilitating clean water improvements.
Water is Basic
Water is Basic was founded in 2006 by Sudanese religious leaders who wanted to solve the water crisis in Sudan. The organization is a borehole drilling operation that manufactured its first water well in the Republic of the Sudan in 2008. Since then, Water is Basic has assembled more than 500 wells and improved over 300 more. In 2012, Water is Basic became a U.S. 501(c)(3) organization, earning nonprofit status under the federal law of the United States. This status allows the agency to be exempt from some federal income taxes; consequently, it was able to focus its profits specifically on water projects. To date, Water is Basic's solutions have provided clean water to 1.5 million people in South Sudan, nearly 10% of the country's total population.
Additionally, Water is Basic shares its expertise in developing clean water solutions with organizations in other African countries. In 2017, Water is Basic provided 30,000 people with clean water in Kibumba, Democratic Republic of Congo. Overall, Water is Basic has employed more than 100 local South Sudanese citizens who strive to bring to life the organization's mission: that every person in South Sudan will finally have access to clean water.
Water for South Sudan
Salva Dut established Water for South Sudan in Rochester, New York, in 2003. Dut was born in southwestern Sudan to the Dinka tribe. The Sudanese civil war separated Salva from his family when he was only 11 years old. Seeking refuge by foot, Dut joined the thousands of boys known as the "Lost Boys" on their journey to Ethiopia. After living in refugee camps for more than 10 years, Dut moved to the United States and decided to aid South Sudan by giving clean water to those in need.
The organization's mission is to end the water crisis in South Sudan by providing access to clean water and improving sanitation practices in impoverished South Sudanese communities. As of April 1, 2020, Water for South Sudan has drilled 452 new drills since 2003. The U.S. 501(c)(3) nonprofit has also restored 162 wells and taught 422 hygiene lessons. The hygiene lessons include information on washing hands properly, covering water containers to keep the water clean, food safety practices and how to dispose of waste. Water for South Sudan has uplifted entire South Sudanese villages. The nonprofit has transformed their lives and health by installing wells, thus helping the people gain access to clean water.
Wells for Sudan
In 2013, The Water Project, a charity concentrated at ending the water crisis across sub-Saharan Africa, partnered with Neverthirst, a sponsor group for water charities in 2013. Together, the organizations drilled wells as part of their combined project Wells for Sudan. The collaboration has installed more than 400 wells in remote villages across South Sudan.
As Wells for Sudan establish water wells to help end the water crisis in South Sudan, the collaborating organizations include holistic approaches to its water projects. Its water projects consist of on-site evaluation, pump repair training and the formation of water committees to manage the wells' maintenance. Neverthirst has also pledged regular inspections of the wells to ensure proper usage.
With the help of these highlighted organizations, the water crisis in South Sudan is declining. Now, more than 729,100 South Sudanese citizens have improved drinking water resources. Nevertheless, Water is Basic, Water for South Sudan and Wells for Sudan all vow to continue their efforts until every citizen in South Sudan has access to clean water resources and improved sanitation.
– Kacie Frederick
Photo: Flickr
https://borgenproject.org/wp-content/uploads/logo.jpg
0
0
Kim Thelwell
https://borgenproject.org/wp-content/uploads/logo.jpg
Kim Thelwell
2020-07-23 13:30:01
2020-07-23 14:48:32
The Water Crisis in South Sudan: Providing Access to Resources