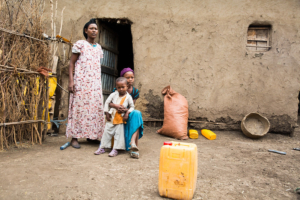 Ethiopia, a country in East Africa, is one of the world's least developed countries. Despite improvements in recent years, the country's economic progress is declining due to the COVID-19 pandemic and widespread conflict throughout the country. The current Human Development Index (HDI) ranks Ethiopia at 173 out of the 189 countries on factors including life expectancy, literacy, poverty and many other dimensions. Although Ethiopia is struggling with a lack of housing, education and family stability, one organization is addressing poverty in Ethiopia: the Wegene Ethiopian Foundation.
The Current State of Poverty in Ethiopia
Nearly one-third of the 108 million people in Ethiopia are living in poverty, both in rural and urban regions. There is very limited work in the country, with 75% of the workforce in Ethiopia working in the agriculture sector. This is an unstable sector because of regular periods of floods and droughts, which can lead to loss of income and food supply.
In Ethiopia, 72% of people live without proper sanitation and only 42% of the population has access to clean water. Almost 80% of the deaths in the country come from preventable communicable and nutritional diseases. 
There is the regular production of general medical practitioners and (some) specialists, but the production is not meeting the high demand for health professionals and equipment and drug shortages are an ongoing issue assisting in further health care difficulties.
Quality education is not prevalent in the country as only 85% make it past grade five and 54% make it past grade eight. Only half of the total population has the ability to read and write. Matters are even worse for females since traditional practices lead to early marriages and female genital mutilation, with little opportunity for women to advance and grow out of poverty.
Conflict in Ethiopia
Since 2020, Ethiopia has been addressing the government conflict with the Tigray region of the country. In November 2020, Prime Minister Abiy Ahmed ordered a military offense against Tigray forces after there was an attack on an Ethiopian military base. This came from months of disagreement and conflict over human rights issues between the government and Tigray's dominant political party, which has turned into a severe humanitarian crisis all over Ethiopia.
Thousands of people have died in this ongoing civil war and around 400,000 people are undergoing famine-like conditions, according to German Federal Ministry for Economic Cooperation and Development (BMZ). As this war continues, it could push Ethiopia into worse conditions.
The Wegene Ethiopian Foundation: Addressing Poverty in Ethiopia
The Wegene Ethiopian Foundation is a nonprofit NGO that a group of friends started with the goal of changing one person's life at a time, hence their slogan "One child at a time." Wegene is dedicated to improving the lives of struggling children and families in Ethiopia. The approach is simple and community-based, with a special focus on improving local impoverished lives: friends, neighbors and others part of the community
The organization has multiple programs in place to address what it sees as the "critical barriers" of poor education, poor housing and family instability:
Education: Academic scholarships, tutoring, laptops and a Knowledge Center: a multipurpose center with a variety of resources (books, school supplies, computers, etc.) and college and job preparation services.
Housing: Home repair or family relocation, provision of basic day-to-day necessities and clothing drives.
Family instability: Career development, small business grants and mother and child relocation from "toxic households."
"Wegene" in Ethiopia's official language Amharic, means 'empowering my community or my people'." As of 2019, Wegene supported 90 families, 36 of which became self-sufficient. Poverty is still present in Ethiopia, but the Wegene Ethiopian Foundation is addressing poverty in Ethiopia and is actively giving families opportunities and resources to have a successful life.
– Dylan Olive
Photo: Flickr
https://borgenproject.org/wp-content/uploads/logo.jpg
0
0
Jennifer Philipp
https://borgenproject.org/wp-content/uploads/logo.jpg
Jennifer Philipp
2022-07-28 01:30:34
2022-07-25 09:55:59
The Organization Addressing Poverty in Ethiopia