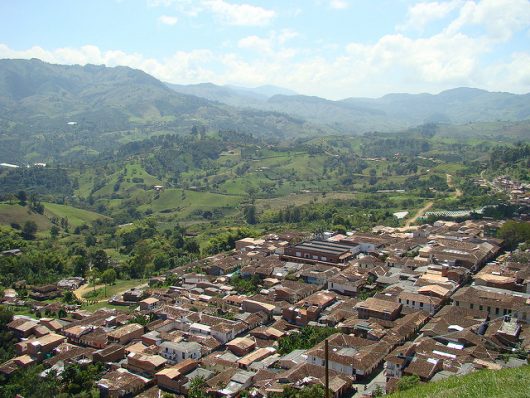 Colombia is a beautiful country with a landscape marked by rainforests, Andes mountains and numerous coffee plantations, but poverty in Columbia remains a problem. Below are facts about Columbia's poverty problem.
10 Facts About Poverty in Colombia
The population living below the poverty line is 34 percent. Though the economic growth of Colombia is among one of the world's emerging economies, more than three out of ten Colombians still live in poor conditions. Colombia is also the world's seventh most inequitable country.
Colombia's unemployment rate grew to 9.4 percent in 2017, making it the country with the highest unemployment rate in Latin America after Venezuela. According to Colombia's National Administrative Department of Statistics, another 8.5 percent of the population was underemployed in the last quarter of 2017.
Colombia has been experiencing violent internal conflicts for more than 50 years. Since 1985, over 5.9 million Colombians have been displaced. People then migrate to urban areas and create informal settlements on the cities' borders.
There are about 3.8 million households, nearly 30 percent of all families in Colombia, that do not have adequate homes according to Ministry of Housing estimates. About 662,146 families are homeless, which is five percent of the population.
Colombia's informal settlements result in challenges. These include lack of access to basic services, poor structural quality and low accessibility to resources for the progressive construction of a house. There is a lack of secure land tenure, meaning people are building homes on land they don't own. Informal settlements also result in limited access to social and health services, education and employment possibilities.
Colombia has dealt with internal struggle for more than 50 years. According to The World Bank, if the country had found even 20 previous years of peace, the income per capita could have been 50 percent higher than it is now. Economic growth was responsible for over 70 percent of extreme poverty reduction between 2002 and 2013.
More than 12.7 million people in Colombia live on less than $2 a day. According to Opportunity Colombia, an organization to enable marginalized people to engage in the local economy, only 2.5 percent of Colombians are using microfinance services.
Additional facts about poverty in Colombia show that in rural areas, more than 7 million people are poor and 2 million are living in extreme poverty.
The unequal distribution of the country's wealth and welfare resources affects Colombian people and is a cause of poverty. The country's income concentration is very high compared to the international averages. The per capita income of the richest ten percent is 46 times greater than those of the poorest ten percent.
In 81 percent of poor rural homes in Colombia, there is no connection to the piped-water network. Additionally, 68 percent of the population suffers from overcrowding.
These facts about poverty in Colombia will help provide a better understanding of the social and economic situation in the country, as well as the progress made and the work that still needs to be done.
– Julia Lee
Photo: Flickr
https://borgenproject.org/wp-content/uploads/logo.jpg
0
0
Borgen Project
https://borgenproject.org/wp-content/uploads/logo.jpg
Borgen Project
2018-03-06 07:30:19
2019-11-24 11:51:36
10 Facts about Poverty in Colombia