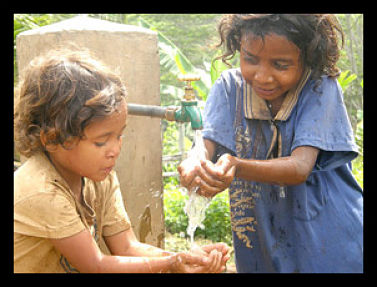 Water sanitation is an issue in development that receives minimal coverage when compared to its impact. Only recently the importance of access to clean water has gained international attention.
A lack of clean water not only makes basic tasks like washing, cooking, and drinking more difficult but also leads to widespread disease. Healthy members of the family are then burdened by taking care of the ill. Livelihoods are often impacted, with women often having to travel long distances to carry water back to their homes, missing out on education or economic opportunities and forcing children to take on responsibility roles in the household.
Established in 1981, WaterAid America works exclusively to provide safe water to at-risk communities globally. It currently works in 27 countries which are among the poorest countries in the world. A country must be on the lower end of the UNDP's Human Development Index is a criteria for Wateraid to begin work.
The organization works with governments and other international NGOs, receiving funding from the U.S. and U.K. governments to carry out their work. They offer training to foreign departments which lack the resources or background to adequately handle their countries' crises, thereby creating a sustainable solution rather than a short term intervention.
WaterAid's impact was documented in Pulitzer Prize winning author Tina Rosenburg's essay "The Burden of Thirst." In it, she describes the immense difference made by having access to clean water. Hours previously spent gathering water are instead spent on gathering food or raising animals, diseases plummet and as such, families are no longer forced to care for sick relatives. Girls who previously bore the burden of fetching water are now free to spend their time getting an education.
The problem of unsafe water remains prevalent throughout the world. According to their website, today, 768 million people lack access to clean water and even more, 2.5 billion, lack sanitation.
– Farahnaz Mohammed
Sources: The Burden of Thirst
https://borgenproject.org/wp-content/uploads/logo.jpg
0
0
Borgen Project
https://borgenproject.org/wp-content/uploads/logo.jpg
Borgen Project
2013-07-16 06:50:36
2020-07-02 12:00:55
WaterAid America