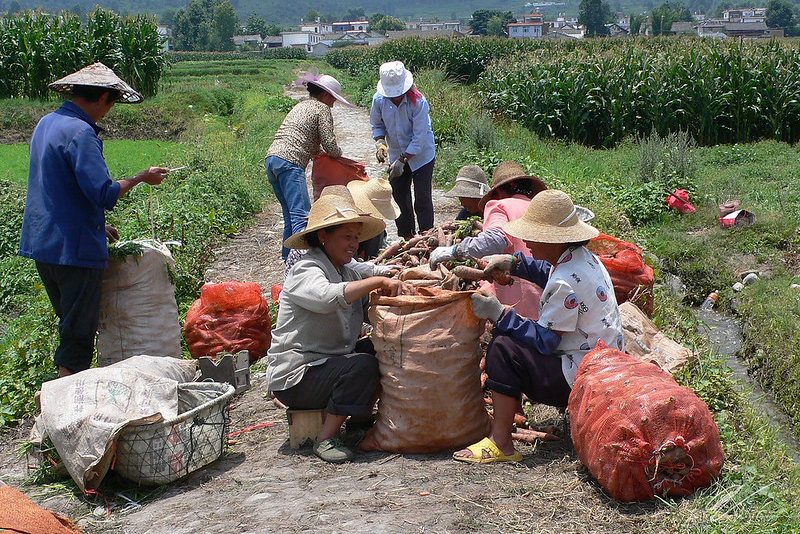 The Chinese government has seen significant success in reducing poverty across China and is using this expertise to help reduce poverty in other areas of the world. Through China's agricultural sci-tech poverty reduction strategy, developing countries may see lower rates of poverty in the following years. Since 2012, China has sent close to 300,000 sci-tech experts to rural areas across China in order to advance agricultural productivity through agriculture sci-tech, thereby reducing poverty.
Over the past four decades, the Chinese government's poverty reduction efforts in China have reduced the number of Chinese citizens living in extreme poverty by 800 million. This equates to a contribution of "close to three-quarters of the global reduction in the number of people living in extreme poverty," the World Bank says. The country reached this poverty reduction goal through a two-pillar system.
The first pillar included "broad-based economic transformation to open new economic opportunities and raise average incomes," while the second pillar aimed to provide targeted support to the most disadvantaged households. China's significant poverty reduction rates are also a result of the country's efficient government.
Shrimp Farming in Inner Mongolia
Aquaculturist and farmer Wang Changgui told Global Times in November 2022 that Ordos City in North China's Inner Mongolia Autonomous Region had recorded a "successful yield" of shrimp this year.
One can attribute the increased shrimp yield to the knowledge and skills of one of the many experts sent by the Chinese government to rural areas to counteract poverty. The Ordos agriculture and animal husbandry bureau directed Wu Tao to research the soil in Inner Mongolia. Wu found that soil in the area had levels of "high salinity," making it an ideal environment to farm shrimp.
Fellow researcher Zhu Changbo noted that the farmers in the area usually need to use water to manually remove the salt brought to the ground surface. However, the process of shrimp harvesting removes a lot of the salt from the water, which is beneficial for the soil and plants.
With the help of its researchers, China aims to "popularize agricultural science and technology, foster the spirit of sci-tech innovation and entrepreneurship, bolster poverty eradication efforts and promote rural vitalization." The implementation of China's agricultural sci-tech poverty reduction strategy is also seeing success in other countries.
Agricultural Assistance in Other Countries
Because the Chinese government has seen poverty reduction success within China, it is also working to decrease poverty rates in other countries through agricultural sci-tech. China's agricultural success stories include:
Global Juncao technology. China is involved in more than 106 nations' efforts to decrease poverty, namely by using Juncao technology. Juncao technology, which involves "breeding fungi with herbaceous plants," has provided households with a sustainable way to grow mushrooms without the use of expensive fertilizers. Papua New Guinea (PNG) has already implemented the method and Juncao technology creator Lin Zhanxi was able to use the technology to help PNG produce rice for the first time in 1997.
Sudan's cotton yield. The China Aid Agricultural Technology Demonstration Center's creation of lab-developed cotton seeds (referred to as "China 1" and "China 2," respectively) has led to agricultural success in Sudan. The specific planting area has made up 90% of the country's cotton yield for multiple years. Furthermore, the seeds' quality had improved the marketability of cotton in Sudan over the last 10 years.
Burundi's hybrid rice villages. China is responsible for planting hybrid rice varieties across 22 villages in Burundi to boost poverty reduction. Chinese experts developed "the first demonstration village of rice cultivation for poverty alleviation in Ninga village" where hybrid rice varieties were farmed for five seasons in a row. Since the planting of the hybrid rice, "the village has increased its rice production by 1,661 metric tons, resulting in improved income for local households."
Through China's agricultural sci-tech poverty reduction strategy, China's rural regions and other developing countries are seeing greater agricultural success, which reduces poverty by raising incomes and strengthening food security.
– Aspen Oblewski
Photo: Flickr
https://borgenproject.org/wp-content/uploads/logo.jpg
0
0
Jennifer Philipp
https://borgenproject.org/wp-content/uploads/logo.jpg
Jennifer Philipp
2022-12-24 07:30:37
2022-12-23 03:20:37
China's Agricultural Sci-tech Poverty Reduction Strategy