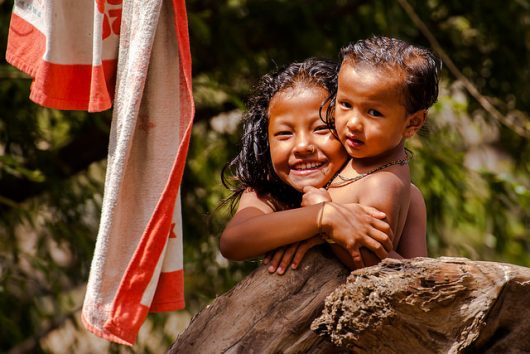 Reducing the child mortality rate in Nepal has been a top priority for the past several decades. In 1967, there were 285 deaths per 1,000 births that has decreased immensely to only 34 deaths per 1,000 births. The government of Nepal has taken significant steps towards decreasing child mortality in their country. 
National Vitamin A Program
In the 1990s, 2 to 8 percent of preschool-aged children had xerophthalmia or an extreme vitamin A deficiency. To combat this, the government of Nepal implemented the National Vitamin A program or NVAP.
This program delivered two rounds of Vitamin A a year to children in priority districts of the country that had a Vitamin A deficiency. From the years 1995 to 2000, this program decreased child mortality by 50 percent.
Chlorhexidine Program
In 2009, the government of Nepal (with USAID) implemented a chlorhexidine program in their country. The government advocated for this program and set it into the daily lives of many throughout the country.
Ever since this decision, the organization has trained healthcare workers and procured chlorhexidine tubes with the help of the Chlorhexidine Working Group. This program is estimated to have saved 9,600 infant lives since it began and will continue to help decrease child mortality in the country.
The Female Community Health Volunteer Program
This program was started in Nepal in the late 1980s to increase the outreach of health practices through volunteer workers. One of the main goals of this program is to decrease the under-5 mortality rate in Nepal.
The Female Community Health Volunteer Program aims to promote the use of certain health practices and educated on preventative health practices. The work done by the volunteers in this program has greatly decreased child mortality rate in Nepal.
Zinc Implementation
In 2005, USAID was requested by the Ministry of Health and Population to help integrate zinc into the government's diarrhea management program. Their work has contributed to a 16 percent increase in zinc use in the country in only 3 years.
Zinc supplements can reduce the time of persistent diarrhea by around 25 percent. Diarrhea is one of the leading causes of child mortality in Nepal, with 12 percent of children five and younger experiencing the condition. Zinc supplements have decreased child mortality rate in Nepal.  
Skilled Birth Attendance
Skilled birth attendance has become more prevalent throughout the country in health facilities and birthing centers; in fact, about 65 percent of deliveries in Nepal are now assisted by SBAs.
Making this care so available to women giving birth has been an incentive for females to go in for check-ups and discuss the possible complications that could occur during delivery. These conversations have not only had a positive effect on decreasing maternal deaths, but they have also decreased child mortality in the country.   
Although addressing the child mortality rate in Nepal is still a work in progress, the government has made great strides towards combating such a horrible phenomenon. The implementation of each of these programs has saved many lives in Nepal and will continue to do so.
– Ronni Winter
Photo: Flickr
https://borgenproject.org/wp-content/uploads/logo.jpg
0
0
Borgen Project
https://borgenproject.org/wp-content/uploads/logo.jpg
Borgen Project
2018-09-23 01:30:52
2019-07-25 16:07:39
5 Initiatives to Reduce the Child Mortality Rate in Nepal