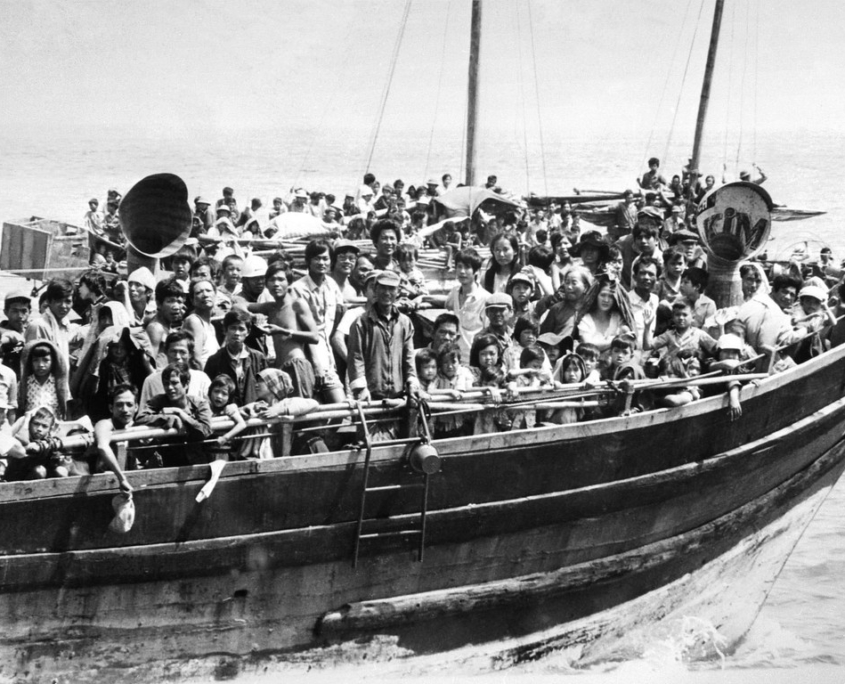 Many remember the Vietnam War as one of the most appalling in American history, and, as one can image, a harrowing chapter for Vietnam. The 1975 reunification of Vietnam established a brutally oppressive regime, striking fear into the hearts of those who lived in Vietnam. The result was a mass exodus of refugees now known as Boat People. Here are ten facts about Vietnamese Boat People who fled in search of better futures.
10 Facts About Vietnamese Boat People
As the name implies, refugees relied on small boats. Under the new regime of the Republic of Vietnam, leaving the country was initially illegal. While this would change with time and the intervention of the United Nations High Commissioner for Refugees (UNHCR), escaping occurred illegally by sea. Many of those who left were families of farmers, fishermen, and people with other rural jobs who had access to boats that were well suited for sailing near shore but were not designed for travel on the open sea. The only option for leaving was by cramming families into small boats.
Diverse communities were at risk. The war devastated the country's infrastructure. While relief eventually came, it did not reach everyone. To make matters worse, in 1979 the Sino-Vietnamese War left those with Chinese heritage fearing for their lives. As there was already a precedent of executions and re-location to labor camps, people also fled the northern areas of Vietnam, at one point accounting for 70 percent of refugees.
Fleeing Vietnam was dangerous. Partly because a large number of refugees from other countries were in the Indochinese area at the time, it is difficult to estimate exactly how many people fled Vietnam. However, experts estimate up to 1.5 million refugees escaped but a high estimate of 10 percent died from drowning, piracy, dehydration, or otherwise never made landfall.
The crisis went unrecognized until refugee numbers grew. An estimated 62,000 Vietnamese Boat People sought refuge throughout Southeast Asia by 1978. This number rose to 350,000 by mid-1979, with another 200,000 having moved to permanent residence in other countries. At first, countries close to Vietnam accepted refugees and provided asylum, however many of those countries' policies changed.
Refugees often passed through multiple countries. Boat People initially sailed to countries closest to their own such as Malaysia, Hong Kong, and Indonesia. The UNHCR established a temporary agreement whereby these countries, many of which began refusing asylum to further refugees, would serve as "first asylums." This meant the refugees would only stay there temporarily until they could be screened and enter nations like the U.S. and Canada.
Countries grew less welcoming to refugees as time went on. Despite the 1979 agreement, the number of Vietnamese Boat People increased in first asylum countries faster than they could process. Some estimate that for every refugee who left one of these countries, three more arrived. Hostility towards the refugees eventually increased, while political situations within each country further exacerbated tensions. Hong Kong, for example, refused to accept Chinese economic migrants but accepted Vietnamese refugees, causing conflict between the nations.
Swamped by refugees to the point of exhaustion, Malaysia faced difficult choices when it came to Boat People. The situation worsened to the point that Malaysians pushed back one vessel having approximately 2,500 refugees on board. This was due in part to ethnic tension between Malay Muslims and the native Chinese. Boat People landing in areas largely inhabited by a Muslim populace further aggravated tension. As Robert Miller, the ambassador to Malaysia at the time put itA "From the Malaysian standpoint they have a very delicate ethnic balance in the country… they have an 'ethnic fault line running the length and breadth of their country between the Malay Muslims and the pork-eating Chinese." As a result, they, like other Southeast Asian countries, eventually refused to accept further refugees.
"Full asylum" nations showed fatigue as the crisis continued. As more refugees entered the United States, people began to question whether the Vietnamese refugees were fleeing due to fear or financial situations. Suspicion arose and screening processes intensified as fewer nations wanted to house the refugees at all. As Miller put it "From the field we were always pressing for earlier decisions and decisions for bigger quotas. From the Washington perspective, they were pressing us to increase international cooperation –get more countries to take more so we could take less."
Thousands of refugees found stable homes. Though Vietnamese Boat People constituted a refugee crisis, it soothed over several years. Refugees who passed screening and inspection entered the U.S., Canada, Britain, and Australia able to begin new lives. While most ultimately flew the last leg of their journey on planes, at least one group made it to Australia by boat. The main solution for refugees resettling included working directly with the Vietnamese government, which eventually sanctioned departures from the country.
Survival stories live on. Fleeing Vietnam was dangerous and offered no guarantee, but survivors found new lives in their new homes. Vietnamese immigrant communities eventually flourished. The UNHRC continued its work making transportation out of Vietnam legal and even encouraged. Nowadays, descendants of those who left in fear can return to discover their heritage and the stories of their ancestors, ensuring that the legacy of Boat People will live on. The preservation of their history and ongoing peaceful relations with Vietnam created a solution that finally materialized.
The fallout from the Vietnam War was, as the fallout from many wars, far worse than anticipated. These stories  and day's refugee crisis show that people can be far less welcoming to refugees than we might hope. However, the survival of those who lived to tell these stories indicates that dangerous risks can lead to safer futures. These 10 facts about Vietnamese Boat People show that when accepted, refugees can thrive and improve relationships between nations.
– Mason Sansonia
Photo: Flickr
https://borgenproject.org/wp-content/uploads/logo.jpg
0
0
Kim Thelwell
https://borgenproject.org/wp-content/uploads/logo.jpg
Kim Thelwell
2019-10-06 09:43:29
2019-12-16 14:55:01
10 Facts About Vietnamese Boat People