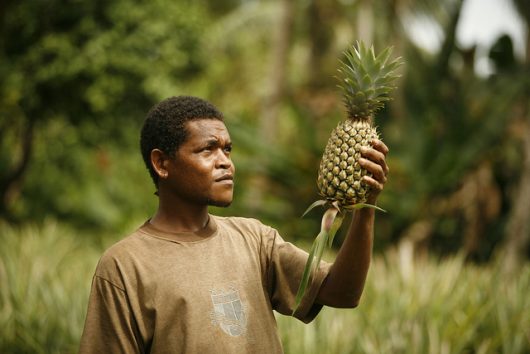 The Solomon Islands is an archipelago of 992 tropical islands residing between Papua New Guinea and Vanuatu. The country has a population of 555,000 predominantly Melanesian citizens. Poverty in the Solomon Islands is a prevailing issue.
Factors Exacerbating Poverty in the Solomon Islands
UNICEF reports that this country is one of the poorest pacific islands as it is still recovering from recent civil conflict. In addition, the islands are consistently victims of natural disaster; they experienced five tropical cyclones, two volcanic eruptions and one tsunami in 2010 alone.
The Solomon Islands are located in a "ring of fire" or a zone of active volcanoes that also comprises 90 percent of the world's earthquakes. The earthquake in January 2010 registered at a 7.2 magnitude. It left one-third of the population on the island of Rendova without a home, The Guardian reports.
Due to the abundance of devastating natural disaster, the infrastructure of the country is also under great pressure as those facing poverty move to urban areas. Caritas Australia reports that less than only one of every three islanders had access to sufficient sanitation facilities in 2012.
Natural disasters, political unrest and movement of displaced people have made poverty in the Solomon Islands a serious issue. The Asian Development Bank reports that 22.7 percent of the population lives below the poverty line.
Evidence of this can be seen as medical issues are often not tended to at a proper time. Lack of connectivity between the islands makes it difficult for doctors and medical professionals to reach certain islands regularly and especially in emergency situations.
Members of UNICEF experienced this first hand as they traveled to the Vella la Vella island by way of a forty-minute boat ride, wading through water to reach land and walking along a gravel road to the islands' only medical facility.
UNICEF worked with the staff to train and equip them through improved immunization services, prenatal and delivery care and programs designed to prevent HIV.
The organization has implemented a number of other programs in the islands such as aiding hospitals in reconstruction after damage due to the tsunami, along with expanded birth registration and counseling. UNICEF's ultimate goal is to set-up opportunities that will enable medical facilities of the Solomon Islands to run efficiently on their own.
"It is very important that both UNICEF and other international donors when providing assistance… ensure that the assistance given lays the foundation for sustainable change in the communities that we aim to help," said Andrei Dapkiunas, a permanent United Nations Representative and UNICEF partner.
UNICEF is not the only organization providing hope for the country. Caritas Australia, whose goal is to "end poverty, promote justice, uphold dignity" supports programs in the islands that teach social justice in schools. Over 5,000 children have been introduced to themes of equality, leadership, peacebuilding and environmental stewardship.
In light of the physical dangers the islanders face, the organization has provided teachers with curriculum instructing children how to prepare for natural disasters through nursery rhymes and games.
This country faces greater challenges than most due to its location on the globe, but the future is not without hope for these resilient people. Through programs and organizations working to build sustainable change, it is possible to combat poverty in the Solomon Islands.
– Rebecca Causey
Photo: Flickr
https://borgenproject.org/wp-content/uploads/logo.jpg
0
0
Borgen Project
https://borgenproject.org/wp-content/uploads/logo.jpg
Borgen Project
2016-11-05 01:30:04
2020-05-22 16:44:26
Poverty in the Solomon Islands