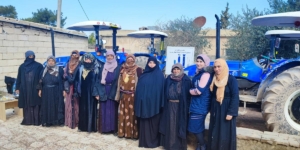 With the combined impact of an ongoing civil war since 2011 and the devastating Türkiye-Syria earthquake on February 6, 2023, Syria's need for humanitarian assistance remains at an all-time high. Approximately 15.3 million Syrians are in need of humanitarian aid, and over 90% of Syrians are currently living below the poverty line. However, United States Agency for International Development (USAID) programs in Syria are bringing the country some much-needed positive change. Beyond providing immediate disaster relief and urgent basic needs such as food security, USAID programs in Syria are also giving citizens a chance at a better future by increasing employment opportunities and improving children's education.
Response to the Türkiye-Syria Earthquake
As of March 2023, the number of confirmed deaths from the Türkiye-Syria earthquake was 7,259 people in Syria, and the estimated economic impact is more than $5.2 billion. The earthquake also hit the vulnerable population hardest, as northwest Syria was home to nearly three million internally displaced Syrians who were already struggling economically.
On March 20, 2023, the United States authorized an additional $50 million through USAID to help the earthquake-affected communities in Türkiye and Syria, bringing the total amount of Türkiye-Syria earthquake-related U.S. humanitarian aid to $235 million. This newly announced funding is intended to support the work of USAID partner organizations in northwest and central Syria. On the ground, USAID's Disaster Assistance Response Team (DART) is "working closely with the Government of Türkiye, the U.N., [and] NGO partner organizations to closely coordinate response efforts, report needs and conditions on the ground and prioritize the delivery of assistance to the hardest-hit communities," according to USAID's official website.
Addressing Food Insecurity in Syria
Food insecurity in Syria is a serious, complex issue with many different causes. The Syrian civil war that broke out in 2011 caused significant destruction of infrastructure and displacement of over 14 million Syrians. In addition, the global food shortage caused by COVID-19 and the Russian invasion of Ukraine further worsened the food insecurity in Syria. Approximately 12.1 million Syrians are considered food-insecure, accounting for more than half of Syria's total population. Out of 113 countries, Syria ranked at the very bottom of the Global Food Security Index in 2022. Syria's food insecurity is especially damaging to children because their growth and well-being are closely linked to nutrition. Approximately 609,900 Syrian children under 5 years old are suffering from stunted growth because of malnutrition.
USAID is working with various partners, including the U.N. Children's Fund and the World Food Program (WFP), to provide food assistance to Syria. Over 6.6 million Syrians are receiving monthly aid from USAID in the forms of cash transfers, food vouchers and monthly food rations. In addition, USAID programs are also providing food security to displaced Syrians in neighboring countries. On March 8, 2023, the U.S. pledged $55 million to provide food assistance to over 460,000 Syrian refugees in Jordan.
Water and Sanitation in Syria
The destruction of water, sanitation and hygiene (WASH) facilities caused by the Syrian conflict led to an acute water crisis for the people of Syria, and approximately 7.6 million people are in urgent need of WASH services. Syria's shortage of WASH capacity is also responsible for the nation's vulnerability to waterborne diseases, such as the recent cholera outbreak centered around northwestern Syria where numerous refugee camps are located.
USAID is working with UNICEF and the International Organization for Migration (IOM) to provide WASH assistance to Syrians. The operational strategies range from water trucking and distributing essential hygiene items to installing small-scale sanitation facilities like handwashing stations and latrines. Currently, a total of 15 USAID-partnered NGOs are operating in Syria and are providing critical aid to communities and refugee camps.
Employment Aid in Syria
The prolonged armed conflict and widespread displacement severely damaged the economy of Syria, with a total loss in GDP from 2011 to 2016 estimated at around $226 billion. Currently, 90% of the population in Syria lives below the poverty line, and the value of the Syrian pound (SYP) has dropped by 97% from 2013 to 2023. Also, from 2019 to 2021, the prices for basic food items soared by 800%.
USAID's Syria Livelihoods Program is helping Syrians find stable job opportunities and improve their financial security. The main goal of the program is to "expand viable economic opportunities for Syrians and help communities build resilience against extremist influences and economic shocks", according to USAID's website.
What Lies Ahead
There is still much work that needs to be done in order to resolve Syria's massive humanitarian crisis. The ongoing civil war continues to cost lives and drive Syrians out of their homes, while food insecurity remains a major obstacle to improving the quality of life in Syria.
Nonetheless, USAID programs in Syria are playing a crucial role in supporting millions of Syrians through difficult times, while also showing the importance of continuous foreign aid in maintaining long-term stability.
– Junoh Seo
Photo: USAID
https://borgenproject.org/wp-content/uploads/logo.jpg
0
0
Jennifer Philipp
https://borgenproject.org/wp-content/uploads/logo.jpg
Jennifer Philipp
2023-05-12 01:30:41
2023-05-11 14:53:45
The Impact of USAID Programs in Syria