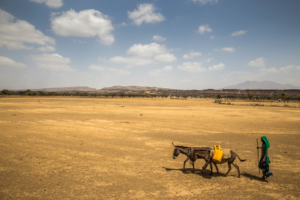 Ethiopia is currently enduring its worst drought in decades. The nation has not experienced a successful rainy season "since late 2020" and the continued lack of rainfall has had devastating consequences. The drought directly affects more than 6 million Ethiopians through water shortages, crop failures and livestock deaths. This is especially devastating because the agricultural industry contributes 40% to Ethiopia's GDP and employs roughly 75% of Ethiopians as of March 2022. The ongoing Tigray War only exacerbates the humanitarian crisis in Ethiopia as fighting in the north of the country continues to displace civilians and disrupts access to economic markets. Both of these developments place a disproportionate burden on the rural population who stand as the most economically vulnerable. Based on the most recent available data from 2016, the percentage of Ethiopians living below the national poverty line is 15% in urban areas but 26% in rural areas. The drought only threatens to broaden this divide as it most negatively affects rural populations that depend upon agriculture. In light of this crisis and its effects on impoverished rural populations, many USAID partners in Ethiopia have stepped in to help.
USAID's Response
The United States is Ethiopia's largest donor of foreign aid and the two countries have a close developmental relationship that goes back to the early 1900s. The United States Agency of International Development (USAID) distributed $402 million worth of humanitarian assistance to Ethiopia during the fiscal year 2021 and continues its commitment in the face of this deepening crisis. USAID channels funds through partner organizations like UNICEF that have specific directives and fields of expertise. Here are three major USAID partners in Ethiopia that are delivering specialized care to those in need:
3 USAID Partners in Ethiopia
Catholic Relief Services: Partly due to the drought's widespread effects on livestock and agriculture, an estimated 20.4 million Ethiopians lack dependable access to food as of December 2021. Partnering with USAID to combat this growing food insecurity is the Catholic Relief Service (CRS), a nonprofit whose mission is to provide emergency relief to victims of civil conflict and natural disasters around the world. It leads the Joint Emergency Operation (JEOP), which comprises numerous development-based NGOs and other USAID partners in Ethiopia. Since June 2021, the JEOP has reached approximately 3.4 million people affected by the crisis with crucial food assistance, which it sources primarily from U.S. agriculture.
UNICEF: With the financial support of USAID, the United Nations Children's Fund (UNICEF) is currently conducting an extensive immunization campaign in the war-torn Tigray region. In the first two months of 2022 alone, the campaign successfully provided measles vaccinations to almost 700,000 children. This is part of a larger children's health campaign that also saw the simultaneous distribution of vitamin A supplements and deworming tablets. This is crucial in Ethiopia where the under-five child mortality rate is 48.7 deaths per 1,000 lives as of 2020. UNICEF intends to provide measles vaccinations to 3 million Ethiopian children by the end of 2022.
International Medical Corps: The International Medical Corps (IMC) is a USAID partner that delivers emergency medical services during times of crisis. In Ethiopia, the IMC has concentrated its efforts on those displaced by the Tigray War. The IMC currently manages 23 mobile medical units that have served more than 804,000 displaced people since the onset of the conflict in November 2020. These units have also administered about 233,000 outpatient consultations while screening 146,510 children younger than five as well as pregnant/lactating women for acute malnutrition as of February 2022. Mobile medical units are crucial as the conflict renders many of the country's health care facilities inoperative. Mobile care is especially important in remote areas with even more restricted access to traditional care. USAID provided the IMC with $4 million in the fiscal year 2021 to fund its activities in the region, and in total, the IMC and other USAID partners have implemented more than 60 of these life-saving mobile medical units across the country since the start of the conflict.
Looking Forward
In a major win for USAID partners in Ethiopia, the Ethiopian government decided in February 2022 to lift the national state of emergency (SoE) that had been active since early November 2021. The SoE had justified the unwarranted detention of foreign aid workers and generally impeded international assistance programs. All aid workers are no longer arbitrarily detained on account of suspicions of connections to the Tigray People's Liberation Front and humanitarian relief efforts can continue with renewed vigor. The U.S. Department of State has also praised this development as an important step toward the peaceful conclusion of the Tigray conflict, which bodes well for the overall stability of the region.
With this hopeful development in Tigray and the sustained assistance efforts of the international community, there is cause for optimism. Ethiopia has weathered the turbulent onset of this crisis, but there is still a need for long-term solutions, especially with regard to rural poverty. For the time being though, the humanitarian initiatives of USAID and its partners help lay the crucial groundwork in human capital, which is a solid first step in Ethiopia's equitable development.
– Jack Leist
Photo: Flickr
https://borgenproject.org/wp-content/uploads/logo.jpg
0
0
Saiesha
https://borgenproject.org/wp-content/uploads/logo.jpg
Saiesha
2022-03-24 01:30:06
2022-03-16 03:51:17
USAID Partners in Ethiopia