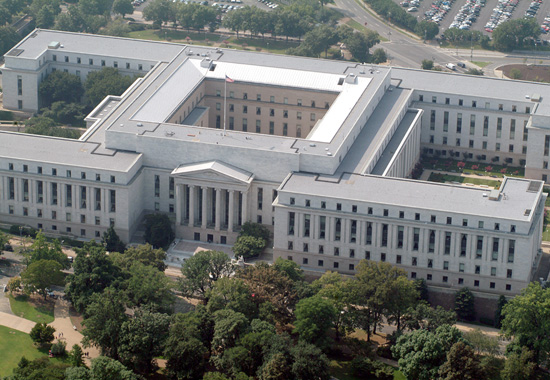 The Rayburn Building is the newest and largest of the three buildings for the House of Representatives. Completed in 1965, the building is four stories tall, has two basements, and three levels of underground garage.   It contains 169 suites for members of the House, nine committee rooms, 16 subcommittee rooms, 51 staff rooms, a cafeteria, post office, and gym. Additional amenities include a first-aid station, Library of Congress book station, recording studio, and press conference faculties. The building is connected to the Capitol in Washington, D.C. through a walking tunnel and subway system with electric cars.  It isn't hard to see why the Rayburn building is the most popular among members of Congress.
Rayburn Building Critics
Although its extravagant amenities make Rayburn a Capitol Hill get-a-way, the building has been ridiculed among architects and designers, many of whom object to its eccentric detailing and classicism.  Before Rayburn, the House resided in the Cannon House Office Building and in the Longworth House Office Building. In 1955, with no architectural schematics, site plan, or an architectural study, House Speaker Sam Rayburn called for a third House office building.  J. George Stewart, the architect of the Capitol building, simplified his original design into what he believed to be a classically harmonious compliment to the Capitol building, and obtained approval from the House Office Building Commission. Stewart selected the space west of the Longworth building, strategically facing the entrance toward Independence Avenue. Full occupancy began upon completion.
The outside of the Rayburn building is designed to complement its interior: two ten-foot marble statues stand on either side of the main entrance along with eight marble rhytons (drinking horns of the mythical creature chimera) on the east and west walls.  A six-foot bronze statue of Speaker Sam Rayburn adorns the courtyard.
– Kali Faulwetter
Sources: Capitol.gov, Aoc.gov
Photo: Natlfire
https://borgenproject.org/wp-content/uploads/logo.jpg
0
0
Borgen Project
https://borgenproject.org/wp-content/uploads/logo.jpg
Borgen Project
2013-06-29 04:00:12
2020-08-28 15:20:32
Rayburn Building 101