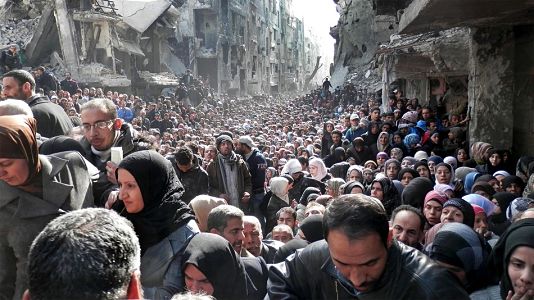 The U.N. Relief and Works Agency's (UNWRA) health program has dramatically decreased the risk of communicable and vaccine-preventable diseases among Palestinian refugees in Syria. However, doing such great work is challenging among crowded refugee camps that are not easily accessible. The threat of contagious diseases is always present.
The threat of a potential typhoid outbreak spreading to the capital of Damascus was prevalent in July, had UNWRA not been allowed to help. The largest "unofficial" camp at Yarmouk emptied of Palestinian refugees after fighting began between Islamic State, local groups and government forces. Refugees are temporarily in Yalda and other towns close by controlled by armed groups that have reached deals with the government. The groups have strong leaders and civilian committees that collaborate with UN agencies.
UNWRA was able to deliver whatever was needed to refugees between April 23 and June 8. They provided 6,000 food parcels each month, and healthcare. Since June 8, UNWRA has no longer been allowed, as a result of assassinations in Yalda, supposedly by insurgents. Those inaccessible places saw the loss of UNWRA host areas for the distribution of water and medical services.
The Syrian Arab Red Crescent and other aid organizations have little access to these areas where there is a strong need for water purification tablets and hygiene kits. In a similar situation last year, access was eventually granted. In other parts of Syria, 10,000 Palestinians have been displaced to a small Aleppo camp with no electricity or water. To the east of Aleppo city, the large Neirab camp is under government control.
UNWRA has done everything it can in the places it can access. UNWRA staff wasted no time when they heard about the potential typhoid outbreak in Yarmouk. They took blood and water samples from those who showed symptoms, and within 24 hours typhoid medicine was delivered to Yarmouk. Currently, the number of cases is decreasing and under control.
UNWRA is hopeful about preventing outbreaks, with its rapid response of reporting cases to UNWRA senior staff, having medicine in Damascus office and 3 month supply kept at clinics. The concern for areas that are not easily accessible is still present.
Agencies are preparing for worsening conditions in Deraa and Aleppo. Before the conflict started in 2011, there were 560,000 Palestinian refugees registered with the UNWRA in Syria; today, there are 480,000, 95 percent of which need constant aid. The number of consultations for medical services has gone up from 100 to 500.
Palestinian refugees are closed off from Jordan and Lebanon, which leaves them with two options: staying in a war zone or being smuggled to Turkey, where they will take unreliable boats to Europe.
UNWRA needs $414 million just for Syria this year due to the 2014 appeal being only half funded. Due to under-funding, it will have to postpone the school year for 700 schools for half a million children unless they receive $101 million from donors by August. A source believes they should qualify, considering they are one of the countries taking part in the US-led campaign against Islamic State in Syria and Iraq, which already has cost $5 billion.
UNWRA devotes half of its budget to education; schools ensure continuity and stability for children in conflicted Syria and Gaza, unstable Lebanon, the Israeli-occupied West Bank and East Jerusalem, and Jordan, all trying to manage the influx of Palestinian and Syrian refugees.
In the past decade, donor contributions have not kept up with population growth. UNWRA offers protection and services to 5 million refugees, but it currently only has enough money to provide relief and healthcare, leaving education out of the equation.
– Paula Acevedo
Sources: Europa, Irish Times
Photo: Mashable
https://borgenproject.org/wp-content/uploads/logo.jpg
0
0
Borgen Project
https://borgenproject.org/wp-content/uploads/logo.jpg
Borgen Project
2015-10-02 08:20:53
2020-06-29 10:39:20
Potential Typhoid Outbreak in Syria