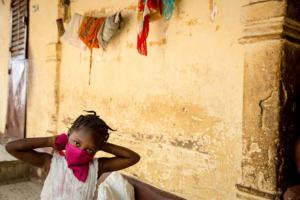 United Parcel Service (UPS) is the world's largest package delivery company and a global leader in supply chain innovation. The company's extensive worldwide network makes it a critical link in everyday commerce while providing the necessary infrastructure and expertise to continue operations during crises. Since its establishment, UPS has leveraged its sub-sectors, global partnerships and supply chain intelligence to provide relief for communities across the world in times of need.

The UPS Foundation, the philanthropic arm of UPS, leads the company's response efforts. The organization donated over $6 million this year to United Nations agencies, humanitarian relief partners, non-profit and international non-governmental organizations.
UPS History of Crisis Prevention
In 2014, an outbreak of the Ebola Virus spread across West Africa, killing 11,325 people. As the second-largest outbreak in history, it highlighted the importance of assembling an efficient system for distributing medical equipment. Later that year, the UPS Foundation joined with Henry Schein, Johnson & Johnson, The World Trade Organization, World Food Program and World Economic Forum to start the Pandemic Supply Chain Network, with the goal of increasing supply chain efficiency. The partnership is a collaboration between public and private sectors that tracks global demand for medical supplies in order to coordinate the allocation and distribution of equipment during large scale public health emergencies.

In 2016, the UPS Foundation partnered with Gavi, the Vaccine Alliance, the Rwandan Ministry of Health and Zipline, a drone delivery service providing access to vital medical supplies, to establish the Rwanda Drone Delivery Network. The network is the world's first drone delivery service whose mission is to provide medicine, vaccines and supplies to remote regions in Rwanda and Ghana. Making basic treatment more accessible is a crucial step toward achieving the UN Sustainable Development Goal of universal healthcare coverage, particularly in isolated and underdeveloped areas.

Previously, UPS also joined with the Partnership for Influenza Vaccine Introduction to provide tools and educational resources to healthcare workers about influenza vaccine administration. The organization works with low-income countries to build yearly influenza vaccination programs. These programs provide a strong existing infrastructure for vaccine distribution that can hold up during a pandemic. Through a $50,000 grant, The UPS Foundation funded the vaccination of more than 17,000 individuals in Armenia, Mongolia and Kyrgyzstan, as well as 130,000 health workers in Vietnam.
COVID-19 Response
Since the start of the COVID-19 pandemic, UPS has taken an active role in supporting international recovery efforts. Through various grants and funding, The UPS Foundation has contributed a total of nearly $21 million toward humanitarian causes in 2020. The company hopes to increase the involvement of private-sector companies in relief efforts through partnerships. These partnerships would provide medical equipment, treatment, food and other basic necessities to vulnerable regions.

UPS joined Project Airbridge, a partnership between the Federal Emergency Management Agency (FEMA) and private-sector companies in numerous countries, to expedite the delivery of medical supplies to remote or vulnerable areas. With the help of its existing global supply chain, UPS is operating additional flights between several countries in Asia, Europe and the U.S. to aid in the distribution of personal protective equipment such as masks and gloves, surgical materials, thermometers and test kits.

UPS is also currently working with three COVID-19 vaccine developers and preparing to facilitate an eventual distribution and rollout. Its subsidiaries Polar Speed and Marken are using their storage facilities, designed to handle fragile and temperature-sensitive materials, to assist with holding and logistics.

During the COVID-19 pandemic, innovation and adaptation are critical skills in developing solutions. UPS has been a leader in supply chain logistics and is now using its expertise to provide global relief. The company's ability to modify its operations to meet the world's needs has been tested in the past and continues to show as UPS creates innovative solutions to humanitarian issues, both alone and through partnerships.

– Sylvie Antal
Photo: Flickr
https://borgenproject.org/wp-content/uploads/logo.jpg
0
0
Kim Thelwell
https://borgenproject.org/wp-content/uploads/logo.jpg
Kim Thelwell
2020-08-21 18:30:06
2020-08-21 18:30:05
UPS Supports International Aid Through Supply Chain Innovation