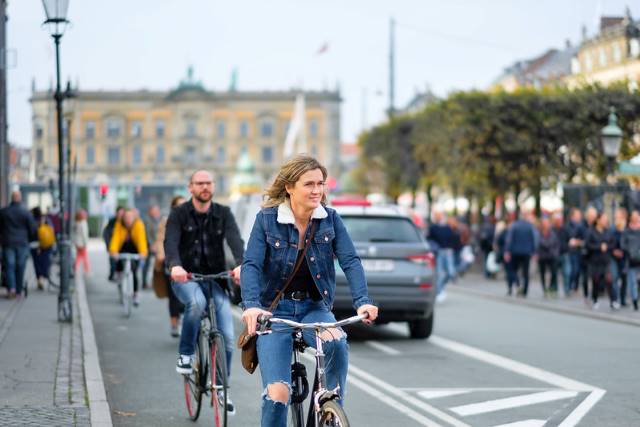 Every year on March 20, the United Nations Sustainable Solutions Network publishes the World Happiness Report. The report assesses the state of happiness in 156 countries, acquiring data through quantitative surveys and research. The report considers GDP per capita, life expectancy, social support, trust and corruption, perceived freedom to make life decisions and generosity. Based on these metrics, Denmark has consistently ranked in the top 10 happiest countries in the world for the last nine years. Naturally, this has prompted the world to take a closer look at what contributes to such positive mental health in Denmark.
Robust Social Security and Social Welfare
It is no secret that the Danish income tax rate is one of the highest in the world. The income tax rate for the average Dane earning $43,000 is 45% and increases to 52% for those earning $67,000 or more. However, a Gallup survey conducted in 2014 found that almost 90% of Danes are happy to pay their taxes. This is because the high tax rate translates into improved societal welfare. For instance, Denmark provides free healthcare to all and education is also free, even at the tertiary level.
The Importance of a Work-life Balance
The Danes recognize that time affluence is a vital prerequisite for happiness. As such, Danes generally only work an average of 37 hours spread across five days. This arrangement provides them with ample leisure time to pursue hobbies or spend time with friends and family. Moreover, many treat mental health in Denmark with the same seriousness as physiological health in the workplace. Employees take "stress leave" to avoid burnout and people impacted by job losses receive generous unemployment benefits from the government.
The Philosophy of Hygge
The most common translation of hygge (pronounced hoo-ga) is a sense of coziness or comfort. It is the ethos of the Danish lifestyle and emphasizes taking pleasure in simple things. During the bleak winters, the Danes take up hygge practices such as playing a board game with friends or reading a book with a cup of hot chocolate. According to A.K. Pradeep, author of "The Buying Brain," hygge encourages activities that minimize stress and create comfort to boost serotonin production. Consequently, the incorporation of hygge into everyday life reduces stress levels and helps with depression. This greatly improves the quality of mental health in Denmark.
Tackling Mental Health Issues in Denmark
By no means should one construe these aspects of life in Denmark as an absence of mental health issues. In fact, estimates suggest that 38% of Danish women and 32% of Danish men will receive professional help for mental health issues at some moment in their lifetime. While the causes for suicide and mental health illnesses in Denmark are nuanced, with regard to the mental health of young people, the high demands and pressures of today's world contribute to anxiety and depression.
Furthermore, the suicide rate in Denmark has now plateaued at 11.4 per 100,000 since 2007. This translates to an average of 600 suicides per year, with experts in suicidal behavior acknowledging the government's ability to do more to address the issue.
However, Denmark is not the only Nordic country celebrated for the happiness of its citizens yet struggling to make further inroads into suicide prevention. For example, in Finland, an estimated 750 Finns commit suicide every year. This is despite extensive national suicide strategies that have managed to bring down the suicide rate by more than 50% in the last 30 years.
Creating Change
Fortunately, organizations have met these staggering statistics with a determination to improve the mental health situation in Denmark. One such organization is ONE OF US. Founded in 2011, ONE OF US aims to eliminate the stigma surrounding mental health in Denmark, addressing social exclusion and encouraging individuals to seek treatment. The organization accomplishes this through its nationwide campaigns.
These efforts consist of activities and workshops to educate the public on mental health issues. Workshops also aim to teach individuals how to support people struggling with mental illness. For instance, with the youth as one of its focus areas, the organization makes presentations at educational institutions with a youth ambassador. The ambassador shares his/her experience with mental health issues and gives guidance on how to overcome these hurdles.
Although happiness is a factor that fluctuates, Denmark does its best to prioritize the integral aspects that contribute to overall happiness. The happiness rate in Denmark is a significant source of pride for former Danish Prime Minister Anders Fogh Rasmussen who believes in a model of "governance for happiness," especially during trying times. Mental health in Denmark plays an important role in overall happiness and the country aims to continue prioritizing it.
– Vyas Nageswaran
Photo: Flickr
https://borgenproject.org/wp-content/uploads/logo.jpg
0
0
Jennifer Philipp
https://borgenproject.org/wp-content/uploads/logo.jpg
Jennifer Philipp
2021-07-12 01:30:17
2021-07-09 07:49:19
Happiness and Mental Health in Denmark