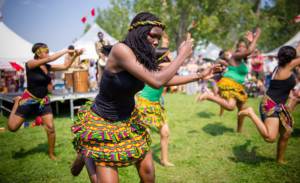 It is not always easy to capture the attention of political leaders. Often, inspiring action requires a creative approach, unique storytelling and personal anecdotes. In May 2019, the United Nations' International Fund for Agricultural Development (IFAD) launched a dance challenge on TikTok called #DanceforChange designed to do just that. The award-winning choreographer Sherrie Silver paired up with African recording artist Mr. Eazi to use the immense power behind dance and self-expression to communicate the need for increased agricultural investment; this will play a significant role in the fight against global hunger and food insecurity.
With increased awareness and assistance from the IFAD, the duo intend to create opportunities for young people living in rural areas around the world. Since 1978, IFAD has provided $20.9 billion in grants and loans for international projects that have affected around 483 million individuals.
Numbers of Impoverished Children
The number of youths living in areas with extremely high levels of poverty remains high today. Almost 385 million of the world's children live in extreme poverty. Around 260 million youths around the world do not receive a formal education, and children are considered twice as likely as adults to live in a state of extreme poverty. Global hunger is also rising; one in nine people in developing nations go to bed hungry each night. The dance challenge supports creating opportunities for youth to combat hunger and poverty, and is becoming an integral piece of the fight for change.
Sherrie Silver and Mr. Eazi
Silver and Mr. Eazi believe that the current generation has both the capacity and resources to put an end to global hunger. Their mission is to spark that change by reaching world leaders and establishing sustainable agricultural investment for current and future farmers. Silver was born in Rwanda and received a formal education in the United Kingdom. She has been recognized for her choreography in Childish Gambino's award-winning video, "This is America," which went viral in 2018. For the current campaign, she created a unique dance move for participants to mimic and believes that young people living in rural areas are beneficial and influential resources. According to Silver, "they have the power to feed the world and transform food systems if given the opportunity to succeed."
Her partner, Mr. Eazi, is a singer, songwriter and entrepreneur from Nigeria. He recorded the song "Freedom," written for and molded specifically towards the initiative. He wrote the song with the intention of portraying the agricultural industry in a positive light and enticing young people to get involved in farming. In a recording posted on TikTok, Mr. Eazi said he believes that "more investment in young people and farming means more food, more jobs and more freedom for us all."
#DanceForChange
The global dance challenge creates opportunities for youth to advocate for sustainable agriculture and employment outlets. Young people around the world are encouraged to record a dance video that is up to 15 seconds long on short-form video app TikTok. For the challenge, Participants must download the app and create an individualized dance routine inspired by Silver's choreography to "Freedom." They then upload the video with the hashtag #DanceForChange to help spread the message and gain a wider reach. In June 2019, the IFAD released a Rural Development Report focused on developing opportunities for rural youth across Africa. The report is designed to identify what impactful roles young people can play in economic transformation and will be central to advocating for increased investment.
Sustainable Agriculture
In rural areas in Africa, agriculture is considered one of the largest sources of livelihood. It is not only a widespread source of income, but a means of food generation and familial support. Across the continent, it is estimated that 11 million young people will enter the job market over the next 10 years, and supporting sustainable agriculture can develop opportunities for rural youth searching for employment in urban areas. Agriculture accounts for 44 percent of all land use across sub-Saharan Africa, therefore designating the farmers that work on the land as key contributors to the international economy. Political figures and branches of government play a vital role in enforcing continued investment in agricultural systems and maintaining natural resources such as soil, water, forests and wildlife.
Success on TikTok
In May, the TikTok app ran a pre-launch promotion for #DanceforChange to project how widespread their reach may be. Nearly 5,000 individuals around the globe uploaded creative dance videos or memes with the hashtag to express their support for creating youth employment opportunities and fighting global hunger, proving that the unique dance challenge creates opportunities in a number of domains. Canada, India, Germany, the U.K. and the U.S. had the highest levels of engagement.
Simply utilizing a creative initiative such as the #DanceForChange challenge can help spread awareness toward issues like global hunger, poverty, unemployment and other difficulties facing youth in developing nations. Through an art form as universal as dance, individuals across the globe are speaking to the combined power of media engagement and self-expression.
– Anna Lagattuta
Photo: Flickr
https://borgenproject.org/wp-content/uploads/logo.jpg
0
0
Kim Thelwell
https://borgenproject.org/wp-content/uploads/logo.jpg
Kim Thelwell
2019-09-14 04:57:54
2019-09-14 04:57:54
#DanceForChange Petition Fights Global Poverty