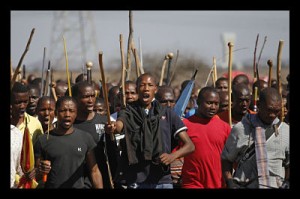 In August of last year, police killed dozens of striking workers at a South African platinum mine. Yet, now, nine months later, labor disputes continue to sweep the country.
This unrest is largely fueled by disputes and turf wars between two rival unions, the Association of Mineworkers and Construction Union (AMCU) and the National Union of Mineworkers (NUM). The competition between these two leads to ever-increasing demands as they try to attract new members. For example, NUM is seeking pay rises of up to 60% for its members. The trouble is that these figures are unattainable. South Africa's currency has plummeted in recent weeks, meaning increased import costs and more rapid inflation.
A lot of factors play into the give and take between industry and the unions. Unemployment in South Africa sits at 25%, although if one were to factor in those unemployed who are not currently seeking jobs, the figure rises to 37%. Strict job protection rules prevent people from stepping in place of union workers. This creates a vicious cycle: jobseekers are kept out of the workforce, thus they must offer their services at higher rates, and then as a result, those privileged few with jobs wind up with higher costs and thus require higher wages. This cycle leads to an escalation in pay, without a corresponding rise in productivity, and perpetuating high unemployment rates.
South Africa's economy is struggling. Exports to its biggest market, Europe, have slowed drastically due to the recession. Retailers are reporting disappointing figures. Mining output is down and inflation may be on the rise. In addition, industrial strikes, or just the threat of them, could potentially lead foreign investors to take their money, money that South Africa desperately needs, elsewhere.
While increased salaries and better working conditions are crucial elements of stable industry, the demand for them cannot be so high as to engender the failure of the industry as a whole, else all of South Africa may suffer.
– David Wilson
Source: The Economist,Global Post
Photo: Photo Blog
https://borgenproject.org/wp-content/uploads/logo.jpg
0
0
Borgen Project
https://borgenproject.org/wp-content/uploads/logo.jpg
Borgen Project
2013-06-04 09:13:47
2020-06-27 03:06:28
Escalating Tensions in South Africa