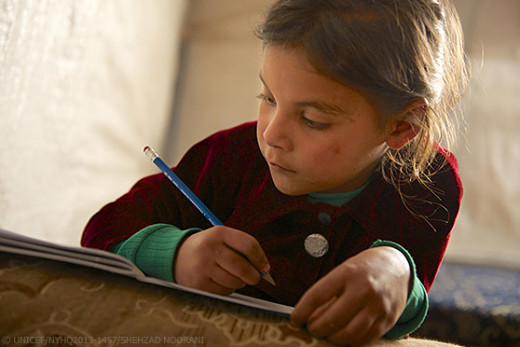 UNICEF and the H&M Conscious Foundation have launched the Unicoin campaign to honor children's dreams, bolster their right to learn and garner support for early childhood education for those in the developing world. The partnership is supposed to contribute to ongoing support for early childhood education and every child's right to education in general. The campaign is also working on gaining governmental support for early childhood education in countries where it is in need of desperate attention.
UNICEF said, "With this new innovative activity, the H&M Conscious Foundation supports UNICEF in raising public awareness about the importance of early childhood development and at the same time provides an opportunity for people to contribute."
The recently launched Unicoin campaign is already making headway as an important project that will fuel the Sustainable Development Goals for the next decade. Hailed as the "first currency dedicated to good" by UNICEF Australia, the Unicoin is a simple exchange making a profound impact; to earn a coin, a child must upload a picture of what they want to be in the future. The only way to spend this coin is on a notebook and pencil, which UNICEF will provide for a child in the developing world who lacks access to education.
Research has shown that the beginning of a child's life plays an important role in how they will live as an adult. The first 1,000 days of a child's life are critical for brain development, motor skills, nutrition and learning. When a child is burdened by poverty or malnutrition, it is almost impossible for them to lead productive and full lives. Furthermore, the importance of early childhood education has not been recognized in some countries, which only contributes to the worldwide problem. According to UNICEF, the disparities in early childhood education in developing countries are causing over 200 million children to have poorly developed bodies and minds.
As Unicoin has said, "Few donors or governments prioritize funding Early Childhood Development, which is why the H&M Conscious Foundation wants to contribute to filling that gap by supporting UNICEF. The program will receive a total of USD 9.3 million over a three year period."
What adults most often adore about children is their ability to dream and use their imaginations in some of the most difficult circumstances. Now, through Unicoin, a child's creativity can make an impact on another child's life. The term "Unicoin" itself demonstrates this creativity, with the prefix "uni" conjuring the most well-known creature of the imagination — the unicorn.
The Unicoin campaign began on June 11, 2015 with a short video that can be viewed on YouTube. To find out more about the Unicoin campaign, visit www.unicoins.org.
-Candice Hughes
Sources: News BTC, UNICEF 1, UNICEF 2, Unicoins,
Photo: UNICEF
https://borgenproject.org/wp-content/uploads/logo.jpg
0
0
Borgen Project
https://borgenproject.org/wp-content/uploads/logo.jpg
Borgen Project
2015-06-29 08:44:17
2020-07-14 18:26:44
UNICEF Introduces Unicoin for Early Childhood Education