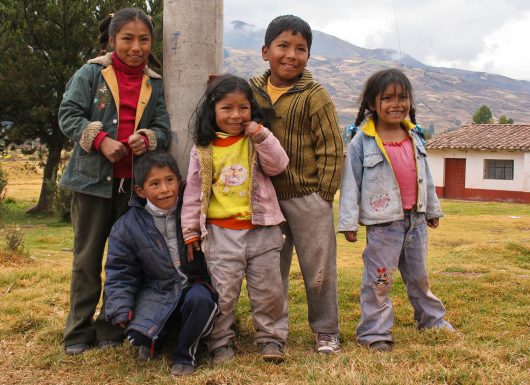 From the mountains to the ocean, Peru is a diverse country, housing some citizens in highly populated cities and others in the most rural locations. While education in Peru has expanded, rural inhabitants do not always have equal access.
Children in Peru are required to be enrolled in school until age 16. After secondary school, however, student enrollment numbers begin to dwindle. As the United Nations Educational, Scientific and Cultural Organization (UNESCO) reported in 2010, primary schools have the highest percentage of children enrolled. From primary school to tertiary school, enrollment rates decline about 50%. Despite this decline, 94% of Peruvian adults are literate, which is higher than the world median.
Education in Peru: Urban vs Rural
Children in urban areas have the easiest access to education in Peru. Those living in the Andes, Sacred Valley and other rural areas, however, struggle to reach education levels similar to those of their urban peers. These children are more likely to drop out of school due to family labor responsibilities. As recorded in the CIA World Factbook, of the 2.5 million children in Peru approximately 865,600 children are in the labor force. School life expectancy, or the number of years an individual is expected to spend in school assuming a constant enrollment rate, is 13 years for citizens of Peru.
Rural students' school experience differs from that of their urban counterparts, as they have to walk several hours a day to get to school in nearby urban areas. Sometimes rural areas have schools, but these schools frequently do not have the resources or support to educate students at different levels. Instead, students of all ages sit in one classroom, making uniform curriculum development a difficult task.
Teachers are being trained to educate rural students under yearly contracts. This training can be challenging, as most rural students do not know Spanish. Teachers have to learn Quechua, the native language of many rural students. Rural and urban teachers alike are faced with an inadequate hierarchy system. Teachers often do not know whether they will be teaching until a week before classes begin, eliminating the ability to plan ahead. These teachers are also unable to get necessary resources, fear being fired and are paid very little.
To overcome these obstacles, Peru's Ministry of Education developed the Alternate Education for Rural Development program. Since 2002, this project has assisted nearly 3,000 young children in 40 rural schools and 11 regions. The program has been successfully accommodating rural students, as shown in 2012 when about 50% of students were enrolled in tertiary school and close to 70% were simultaneously working.
Other organizations are improving education in Peru as well. Unearth the World (UTW) works with nonprofit organizations in Peru to help provide women, children and teens living in poverty with proper education services. Peruvian Hearts helps Peruvian girls attend secondary school and college by offering scholarships ranging from $500 to $6000 per year.
– Kristen Guyler
Photo: Flickr
https://borgenproject.org/wp-content/uploads/logo.jpg
0
0
Borgen Project
https://borgenproject.org/wp-content/uploads/logo.jpg
Borgen Project
2016-12-21 01:30:16
2020-06-03 16:24:18
Rural Education in Peru: Inconsistent but Improving