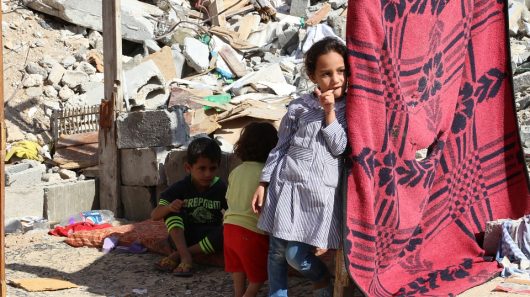 The Arab-Israeli conflict has continued for more than 65 years. The absence of a Palestinian state has led to major difficulties in providing aid for their refugees. Palestine refugees differ from other refugee populations in the world and have a unique status as a result. In order to understand the struggle of refugees involved in this conflict, consider these 10 facts about Palestine refugees:
1. One in three refugees is Palestinian.
There are nearly 7.2 million Palestine refugees worldwide. The number of Palestinian refugees is nearly double that of Syrian refugees (3.8 million).
2. There are three main groups of Palestinian refugees.
The largest group is comprised of Palestinians who were displaced in 1948. Another major group are those who were displaced from the West Bank and Gaza Strip in 1967. The third group refers to internally displaced Palestinians.
Internally displaced refugees include both: Palestinians who remained in areas that later became the state of Israel, and Palestinians living in the West Bank and Gaza Strip who lost their homes due to demolition, revocation of residency rights or the construction of Israeli settlements.
3. There is a specific U.N. relief organization for Palestine refugees.
The U.N. Relief and Works Agency for Palestinian Refugees (UNRWA) began operations in 1950. All other refugee populations worldwide are protected by the U.N. High Commissioner for Refugees (UNHCR).
4. There are specific criteria for qualifying for UNRWA assistance.
The UNRWA provides aid for Palestine refugees who "lost both home and means of livelihood as a result of the 1948 conflict." The other primary groups of refugees do not qualify for aid under the UNRWA mandate.
5. Palestinians are one of the only populations whose descendants also qualify as refugees.
As a result of Palestinian descendants gaining refugee status, there are currently 5 million refugees who qualify for UNRWA services. When the UNRWA began operations, the agency responded to the needs of only 750,000 Palestinian refugees.
6. There are 58 UNRWA recognized Palestine refugee camps.
There are 58 official and six unofficial refugee camps across Jordan, Lebanon, Syria, the Gaza Strip and the West Bank.
One-third of the registered Palestine refugees live in refugee camps. Camps typically have poor socioeconomic conditions, are extremely overcrowded and lack adequate roads and sewer systems.
7. Palestine refugee camps in Gaza comprise one of the highest population densities in the world.
More than half a million Palestine refugees live in the eight recognized refugee camps in Gaza. The number of refugees in the area continues to rise due to wars and bombings. Over 70 percent of Gaza's total population are refugees.
8. Jordan has the most Palestinian refugees of any country.
There are over 2 million registered Palestine refugees living in Jordan. The number of refugees living in the Gaza Strip and West Bank combined is fewer than the amount living in Jordan.
9. Palestine refugees are granted citizenship in Jordan.
Jordan is the only host country that has granted Palestinian refugees full citizenship rights. Other host countries have been known to bar Palestinians from basic rights, such as health and educational services.
10. No Palestinian has ever lost their refugee status.
Palestinian refugees have been refused the right to return to their place of origin; Israeli officials have declared that such a right is not legitimate. The number of Palestine refugees has increased by more than six times the amount originally accounted for in 1948. This is a result of Palestinians being able to retain their refugee status.
These 10 facts about Palestine refugees are by no means an exhaustive list, however, it offers insight into the current situation. Palestinians are the largest and longest-standing group of refugees in the world. Palestinian refugees have suffered for over six decades and will continue to suffer until their basic needs and rights are met.
– Kristyn Rohrer
Photo: Pixabay
https://borgenproject.org/wp-content/uploads/logo.jpg
0
0
Borgen Project
https://borgenproject.org/wp-content/uploads/logo.jpg
Borgen Project
2016-08-27 01:30:40
2020-06-17 20:17:24
A Unique Struggle: 10 Facts About Palestine Refugees