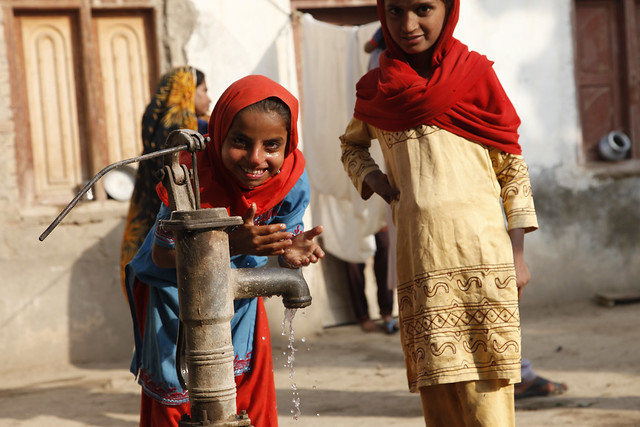 Currently, over 660 million individuals around the world do not have access to clean, potable water. However, the Utretch, Netherlands-based organization Vitens Evides International (VEI) aims to change this. VEI partners with local companies to deliver clean water to individuals in transitioning and developing countries. Their work has already reached the lives of hundreds of thousands of people, as they have entered into productive partnerships with companies in Colombia, Ghana, Kenya, and Mozambique, among others.
Notable Partnerships
Upon entering into a WOP (water-operator partnership) both the local company and VEI get to work implementing technologies and strategies to help improve water quality and accessibility. One of VEI's most successful partnerships came in 2008, when they partnered with local company SAWACO in Ho Chi Minh City, Vietnam. VEI was able to successfully fix the issue of water system leakage in the city and improve clean water distribution. They were also able to train individuals in the community on how to maintain a functional, efficient water purification and distribution system, ensuring that the work done by this particular WOP had long-lasting impact.
Another notable partnership came in 2015 when VEI worked with FIPAG, a local water supply company in the city of Maputo, Mozambique. Their combined efforts to install new drinking water distribution centers and improve household connections to these centers has helped bring clean, potable water to many people residing in Maputo.
The Statistics
VEI's yearly statistics are impressive. In 2018, they worked on over 40 projects in 20 different countries and helped over 300,000 individuals gain access to clean water. The number of individuals that have gained access to clean water as a result of VEI's work has grown in 3 consecutive years; as such, VEI is aiming to help another 350,000 individuals gain access to clean water by 2020. The company has a strong vision and driven leadership at the helm. Given all of this, it seems VEI is set up for future success.
Sustainable Development Goals
VEI's work helps to achieve UN Sustainable Development Goal #6, which is to ensure all individuals have access to clean water and sanitation. Accomplishing such a goal will help achieve a number of other Sustainable Development Goals (SDG's) as well; having access to clean water helps to alleviate poverty and promote educational opportunities (SDG's #1 and #4) as individuals will be able to spend more time working or obtaining an education and less time looking for water. In addition, individuals with access to clean water will be far healthier, which will contribute towards the achievement of SDG #3.
Future Impact
As mentioned above, VEI is looking to continue to make a positive impact on the lives of thousands of people across the developing world. They have recently secured partnerships with companies such as STUCO (Aruba) and WEB (Bonaire), as well as DWASA (Bangladesh). Each of these partnerships promises to contribute to the end goal of providing clean, potable water to everyone around the globe. Such a future may now be closer than ever.
– Kiran Matthias
Photo: Flickr
https://borgenproject.org/wp-content/uploads/logo.jpg
0
0
Kim Thelwell
https://borgenproject.org/wp-content/uploads/logo.jpg
Kim Thelwell
2019-07-14 07:30:01
2019-07-10 18:23:18
Vitens Evides International and Clean Water Access