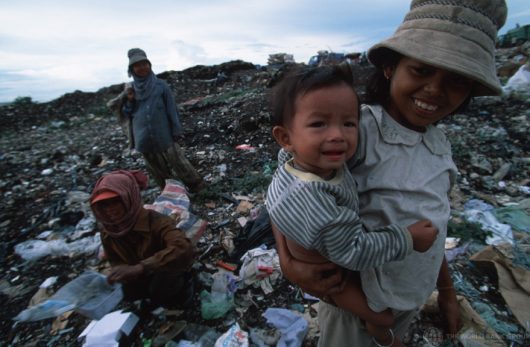 In light of recent political events and President Trump's "America First" agenda, many politicians are considering cutting spending on U.S. foreign aid. However, there are a number of ways that the U.S. benefits from foreign aid to Cambodia, making foreign aid a wise investment. United States foreign aid to Cambodia is a very complex issue and must be treated as such.
The United States, by providing aid to foreign countries, fosters stability, revitalization and cooperation all over the world. Many countries compete to gain diplomatic and political influence around the globe through foreign aid spending. The U.S. benefits from foreign aid to Cambodia include fighting global warming and preventing the spread of diseases such as HIV/AIDS and malaria. Not only are these efforts morally good, they protect United States citizens from epidemics and disasters while stabilizing the economies and governmental relations of many countries around the globe.
Cambodia has been ravaged by wars, corruption and poverty in recent years. United States foreign aid has been effective at stabilizing the country, and since economic conditions have normalized, the United States has become the largest purchaser of Cambodian exports in the world. In 2017, the United States spent $88.52 million in Cambodia on foreign aid for health, education, economic growth, security, environmental protection and governance. Through the United States Agency for International Development (USAID), many improvements have been made in Cambodia through the disbursement of foreign aid.
The U.S. benefits from foreign aid to Cambodia have manifested in preventing the spread of diseases, reducing crime and fostering economic development. An example of a program run by USAID in Cambodia is the ASSIST Project, in which the United States provides funding and advisors from health-related professions, ensuring that business models and medical practices are effective.
USAID also funds other programs such as the Country Development Cooperation Strategy to utilize resources that provide education and resources for a more efficient democracy in Cambodia. By promoting a stable government, the U.S. benefits from foreign aid to Cambodia by reducing the risk of war or other conflicts that could involve the U.S. military or put American citizens in danger.
U.S. foreign aid also helps build schools for children to learn other languages, increase government involvement and promote human rights and civil liberties in Cambodia. Cambodians have also seen improvements in their health services, a reduction in preventable deaths and a rise in literacy rates as a result of U.S. foreign aid. Because of these improvements, Cambodians are better able to participate in the economy, which allows U.S.-Cambodian trade to continue to grow.
In conclusion, while foreign aid may seem like an unnecessary expense in modern times, it may be one of the most needed expenses our government has today. The people of Cambodia not only rely upon the United States for foreign aid, but reward the U.S. with cooperation and trade in return. For the people of Cambodia and many other countries around the world, U.S. foreign aid is an investment on which they depend on and one which the United States cannot afford to overlook.
– Dalton Westfall
Photo: Flickr
https://borgenproject.org/wp-content/uploads/logo.jpg
0
0
Borgen Project
https://borgenproject.org/wp-content/uploads/logo.jpg
Borgen Project
2018-03-26 07:30:44
2019-05-22 10:53:34
How the US Benefits From Foreign Aid to Cambodia