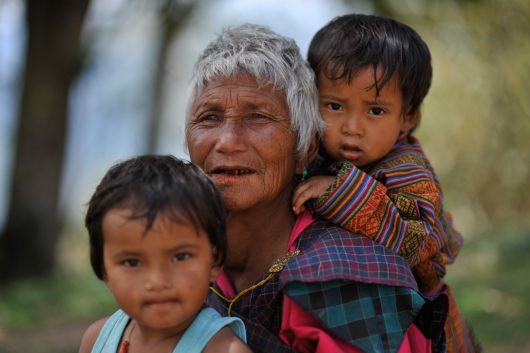 Bhutan is a small country sandwiched between India and China and the only country in the world that is carbon negative. The U.S. benefits from foreign aid to Bhutan in more ways than one can imagine. Although the U.S. and Bhutan never established formal diplomatic relations, the two countries maintain warm, informal relations via the U.S. embassy situated in New Delhi, India and Bhutan's mission to the U.N., New York.
Both countries are members of many global financial institutions such as the United Nations, International Monetary Fund, World Bank and the Asian Development Bank.
Bhutan and the U.S.
The U.S. is one of the major indirect foreign sponsors of development of the fledgling economy of Bhutan. Yet, viewing it as an investment and not aid is more accurate as the U.S. benefits from foreign aid to Bhutan.
The World Bank granted a $9 million interest-free loan to help Bhutan develop a calcium carbide plant near Phuntsholing. As of 1990, total Asian Development Bank loans to Bhutan amounted to $30 million.
Bank Loans
In 1987 and 1988 alone, the Asian Development Bank approved loans amounting to around $6.9 million to cover the costs of industrial estates modernization and to provide foreign currency for the Bhutan Development Finance Corporation, which in turn provided credit for agricultural projects and private-sector businesses.
Asian Development Bank loans to Bhutan for 1990-93 were projected at $35 million, plus a grant of more than $4.85 million; the aid was for technical assistance.
How the U.S. Benefits from Foreign Aid to Bhutan
Naturally, these plans have emboldened Bhutan; however, it is essential to note how the U.S. benefits from foreign aid to Bhutan. The U.S. benefits from foreign aid to Bhutan by opening up numerous opportunities of an untapped market. Although, these may not be visible at first. The following points may bring about a new perspective:
In 2015, foreign exports from the United States to Bhutan totaled $213,126 — a significant economic benefit to the U.S. from its foreign aid to Bhutan.
Bhutan is the only country in the world whose major export is a clean energy – hydropower. The U.S., meanwhile, is striving to become a major exporter of renewable energy technology.
To this day, there are still no chain establishments such as McDonald's, Starbucks, 7-11, Baskin Robbins, Subway, etc. Bhutan remains almost untouched by the outside world.
There only two airlines that fly to Bhutan, which are Druk Air and Royal Bhutan.
There is only one escalator in the whole country located in a shopping mall in Thimpu.
As Governor Tom Ridge rightly states, "By building new markets overseas, for American products, the International Affairs budget creates jobs and boosts the economy here at home." The opportunities in developing Bhutan could be endless!
– Himja Sethi
Photo: Flickr
https://borgenproject.org/wp-content/uploads/logo.jpg
0
0
Borgen Project
https://borgenproject.org/wp-content/uploads/logo.jpg
Borgen Project
2018-03-14 01:30:01
2019-11-29 14:33:26
Ways the US Benefits From Foreign Aid to Bhutan