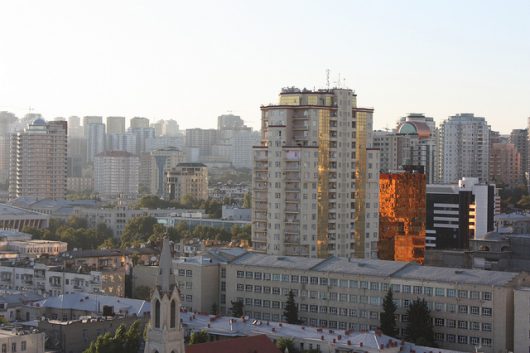 Since its formation in 1992, Azerbaijan has had positive diplomatic relations with the United States. The U.S. has affirmed its commitment to strengthening democracy in the region, as well as diversifying the economy and promoting regional stability. In 2017, the United States' government gave $15.31 million in foreign assistance to Azerbaijan.
Over $4 million of that contribution went towards democracy, human rights and governance agendas. Another $3.63 million went towards economic development. Here are the four major ways in which the U.S. benefits from foreign aid to Azerbaijan.
Positive U.S.-Azerbaijan Relations Support American Jobs
Azerbaijan purchases American services. In 2010, Azerbaijan signed a $1 billion contract purchasing eight civilian airplanes from the American Boeing company; this contract supported 11,000 American jobs.
That same year, seeking to create its first communication satellite, Azerbaijan signed another contract with the Orbital Sciences Corporation in Virginia. The $205.3 million contract created 1,500 American jobs.
U.S. Companies' Substantial Stakes in Azerbaijan Economy
Azerbaijan has welcomed U.S. investment in its economy. The Law on Protection of Foreign Investments allows for foreigners to directly invest in any activity of the Azerbaijan economy in which a national investor may also invest.
U.S. companies quickly capitalized on this opportunity. Many have long-standing investments in offshore oil development projects; however, experts predict a decline in this industry.
As a result, several U.S. companies are investing in other fields of the Azerbaijan economy such as agriculture, telecommunications, tourism and transportation services. The U.S. also regularly exports aircraft and heavy machinery to the region.
Azerbaijan: Useful Ally in Combating Terrorism
Azerbaijan has a confirmed commitment to combating terrorism. The country is a member of several international organizations such as the Organization for Security and Cooperation in Europe, and the Organization for Islamic Cooperation. The collaborative work of Azerbaijan's State Security Forces and the Foreign Intelligence Service have made sizeable contributions to the international community's efforts to combat terrorism.
Furthermore, as a member of the Council of Europe's Committee of Experts on the Evaluation of Anti-Money Laundering Measures and the Financing of Terrorism (MONEYVAL), Azerbaijan has also taken steps to deter money laundering schemes that could finance terrorism.
Given this commitment, positive relations with Azerbaijan could help advance U.S. security goals in the region.
Successful Market Democracy Could Provide a Model for the Region
The primary objective of USAID contributions in Azerbaijan is "to support Azerbaijan's reform processes by promoting competition and pluralism in the society, laying the foundations for a sustainable market-based democracy."
As a Muslim-majority country with a history of religious tolerance, Azerbaijan could be a model for countries in the region. Azerbaijan shares a border with both Russia and Iran. If Azerbaijan can successfully become a market economy, perhaps it can provide a model for similar countries in the region.
How the U.S. Benefits From Foreign Aid To Azerbaijan
By providing aid to the Azerbaijan people, the United States is ensuring the continued economic and security cooperation with a proven ally. Though often overlooked by popular U.S. media, Azerbaijan's development has a notable effect on the American people.
– Joanna Dooley
Photo: Flickr
https://borgenproject.org/wp-content/uploads/logo.jpg
0
0
Borgen Project
https://borgenproject.org/wp-content/uploads/logo.jpg
Borgen Project
2018-08-20 01:30:49
2019-12-11 12:01:28
How the US Benefits from Foreign Aid to Azerbaijan