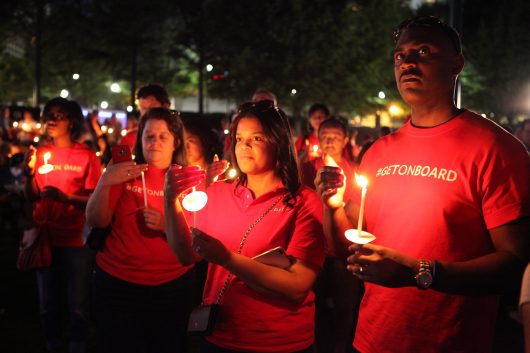 The Trump administration has committed to ending human trafficking, making it a major policy initiative of the president's first term. At a State Department ceremony in June, Ivanka Trump, President Trump's daughter and senior advisor, called trafficking an "ugly stain on civilization."
However, the Trump administration is missing out on a key component of ending human trafficking: helping refugees. Refugees are among the most vulnerable groups of individuals to human trafficking, according to the 2017 and 2016 annual Trafficking in Persons (TIP) reports. The 2016 report also notes that refugees who are denied asylum are especially at risk. Unaccompanied children and women are another target population.
Refugees constantly face threats of human trafficking, whether they are in their home countries; en route to their new countries; or even at temporary resettlement camps. One way traffickers exploit these asylum-seekers is by offering to smuggle them into countries where their entry is illegal.
Preying on refugees' desperation to find better lives, they may then force their victims into sexual bondage or other forms of trafficking. Traffickers may also falsely promise incoming refugees jobs, or they take advantage of parentless refugee children.
Despite White House promises to reduce human trafficking, the newly instated travel ban makes it difficult for refugees to enter the U.S. For example, the travel ban places a 50,000-person cap on the U.S.'s refugee program. The cap is a stark contrast to former President Obama's plans to resettle 110,000 individuals this year.
Thanks to a Supreme Court order passed in June, the ban will not apply to refugees who have children, parents or siblings in the U.S. However, it will still affect thousands of displaced persons around the globe.
President Trump's attempts to dramatically limit U.S. refugee intake are at odds with his anti-trafficking goals. The 2016 TIP report clearly asserts that government-implemented strategies are key to the reduction of human trafficking of refugees.
"It is critical that governments and international organizations make every effort to identify and help trafficking victims among migrant populations," the report says. It also recommends that officials provide migrants with safe, regulated immigration centers and work opportunities, as well as education on the dangers of human trafficking at entry points.
There must be plans to revise the U.S. refugee plans in order to protect the thousands around the world that are in modern-day slavery.
– Sabine Poux
Photo: Flickr
https://borgenproject.org/wp-content/uploads/The_Borgen_Project_Logo_small.jpg
0
0
Borgen Project
https://borgenproject.org/wp-content/uploads/The_Borgen_Project_Logo_small.jpg
Borgen Project
2017-08-22 07:30:22
2020-06-18 09:23:08
Human Trafficking and the New Refugee Policy