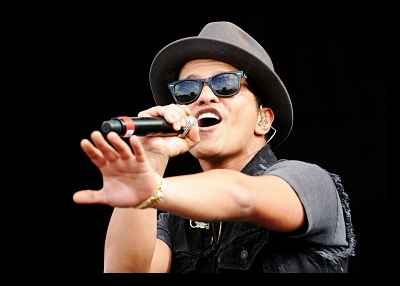 Bruno Mars isn't just another handsome face singing catchy love songs. He — along with over 70 artists — is partnering with the Global Poverty Project to address poverty worldwide by using a fanbase to raise awareness and funds.
Global Citizen is a website managed by the Global Poverty Project that centralizes information about global poverty and opportunities to help. Its ultimate goal is to increase the number of citizens actively advocating for change. The site is comprised of actions related to education and advocacy campaigning, all of which address 13 key issues:
Food and Hunger
Primary Education
Gender Equality
Child Mortality
Maternal Health
Fighting Diseases
Water and Sanitation
Environmental Sustainability
Global Partnerships
Fighting Corruption
Effective Governance
Polio Eradication
Fair Trade
Participation in Global Citizen actions such as watching a video about extreme poverty, signing petitions, contacting representatives or volunteering time or money earn points for users, which can be redeemed for prizes.
14-time Grammy Award nominee Bruno Mars is one of over 70 artists who realize the importance of ending global poverty. As touring recording artists, they are exposed to areas of the world that suffer the effects of extreme poverty in outrageous percentages. Recognizing the power of their celebrity, they have stood up to support the movement. Mars joins a group of industry power-players like Jay-Z, Beyoncé, Bruce Springsteen, Pearl Jam, Kings of Leon, Kesha, Kanye West, John Mayer and more who have donated at least 2 tickets from each show scheduled in their current tour, resulting in over 20,000 tickets donated to Global Citizen. Once users reach enough points, they can enter a drawing for a chance to win concert tickets. Another option is simply redeeming a higher number of points for tickets, similar to the 'Buy It Now' feature on eBay.
Extreme poverty has been cut in half in the last 30 years, and the knowledge and resources necessary to end the crisis completely within a generation are available. It won't happen overnight, but Global Citizen is breeding an army: an army with the power to end extreme poverty by making informed consumer decisions and advocating for change. Global Citizen and artists like Bruno Mars are helping people to see that every voice counts and every person is capable of changing lives around the world.
– Dana Johnson
Source: Global Citizen, New York Times
Photo: Smash Vault
https://borgenproject.org/wp-content/uploads/logo.jpg
0
0
Borgen Project
https://borgenproject.org/wp-content/uploads/logo.jpg
Borgen Project
2013-07-10 07:00:31
2016-04-07 18:48:02
Bruno Mars Sings for Poverty Relief