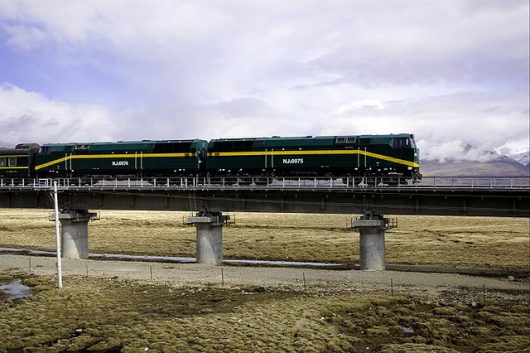 Though most of China is now urbanized, some parts of the third-largest country in the world still remain cut off from industrial society. Tibet is the western part of China, dominated by high planes and an agriculture-based economy. The region can almost be considered its own country, given that the isolated culture differs so much from that of other more populated places in China such as Beijing or Hong Kong. Not only does Tibet differ in population and culture but in poverty as well. China's 13th Five-Year Development Plan hopes to change this.
The current President of China, Xi Jinping, has stated that getting rid of poverty in rural areas such as Tibet would be the hardest part of building a "prosperous society." In addition to building better access to transportation, the government plans to expand access to water, the internet, education and health care.
While the poverty rate in China was measured at just about 6.5% in 2012, the rate in Tibet was a staggering 32.9% by the end of 2015. The Chinese government is now being forced to strategize and increase its efforts to support Tibet. Through many provisions in China's 13th Five-Year Development Plan (2015-2020), Tibet will benefit greatly. Included in the Five-Year Development Plan is the Sichuan-Tibet Railway, which has recently begun construction.
The China Railway Eryuan Engineering Group states that the railway will go from Chengdu, the capital of Sichuan province, all the way to Lhasa, the capital of Tibet. This line will connect the most remote villages of Tibet with the most globally connected parts of China, making travel easier and faster. The $36 billion project will promote and increase economic prosperity, which is exactly what the Five-Year Development Plan set out to do.
Since the construction of the Qinghai–Tibet Railway increased the tourism economy of the region, the Sichuan-Tibet Railway is sure to have the same effect. This construction project will be a huge job-creator, and, with more money from tourism, government jobs and increased access to industrialized markets, the people of Tibet will have many more opportunities to escape from poverty.
– Vicente Vera
Photo: Google
https://borgenproject.org/wp-content/uploads/The_Borgen_Project_Logo_small.jpg
0
0
Borgen Project
https://borgenproject.org/wp-content/uploads/The_Borgen_Project_Logo_small.jpg
Borgen Project
2017-07-29 01:30:01
2020-06-29 08:12:56
How China's 13th Five-Year Development Plan Affects Tibet