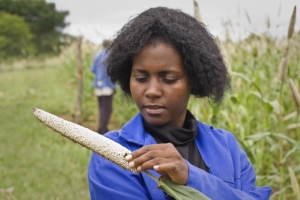 Zimbabwe, a landlocked country in south-eastern Africa, frequently suffers from the effects of seasonal droughts. For example, during the 2019 agricultural season, Zimbabwe endured a particularly devastating drought resulting in more than 5 million rural Zimbabweans experiencing food insecurity and nearly 4 million requiring food assistance. On top of issues of food insecurity that lower yields caused, Zimbabwe's annual inflation rate rose to rates above 190% in June 2021, resulting in a higher overall cost of living throughout the country. Additionally, the price of maize has risen by more than 50% since the beginning of 2021. Luckily, drought-resistant grains are boosting food production in Zimbabwe.
How the Zimbabwean Government is Assisting Farmers
To solve the problem of lower yield due to maize not being able to withstand drought conditions, the Zimbabwean government has begun assisting farmers in the transition to farming smaller drought-resistant grains like sorghum and millet. This transition has resulted in food production increases in Zimbabwe, though it has not been easy for many farmers, as these smaller grains require more work to keep up. The small-grain crops attract birds, making a protection system essential to guard their crops. Moreover, when harvested, small-grain crops require more labor-intensive processing. Additionally, because the farmers have stopped farming as much maize, they have subsequently become unable to produce the corn necessary to make many staple Zimbabwean foods.
Responsive Drip Irrigation
Responsive Drip Irrigation is aiding farmers with an innovative irrigation system that helps crop production in drought conditions. It developed an irrigation system that reacts to the crops' chemicals to determine when the plants need water. Of course, innovative technology such as Responsive Drip Irrigation is expensive and therefore difficult to make available to many Zimbabwean farmers. Nevertheless, in August 2021, Responsive Drip Irrigation began working with smallholder farms to help encourage food production increases in Zimbabwe.
The CAWEP Program
Additionally, in December 2022, the United Nations Development Programme (UNDP) announced the implementation of a new three-year initiative to make water more accessible throughout rural Zimbabwe. The CAWEP program allocated $14.8 million to increase access to water for various household uses, improve access to clean and affordable energy, and refurbish current irrigation systems. CAWEP should eventually connect as many as 12,500 people to electricity, assist 150,000 people with accessing water and establish more than 100 hectares of land as workable agricultural property. By making water more accessible to these rural Zimbabwean farmers, the UNDP hopes to increase food production in Zimbabwe.
The World Food Programme (WFP)
Finally, the World Food Programme (WFP) has also worked to provide support for rural Zimbabwean farmers in the face of probable climate shocks such as prevalent droughts. as of November 2022, the WFP has provided nearly 10,000 metric tons of food, more than $420,000 worth of cash-based transfers and has reached close to 500,000 people with these cash transfers. As of December 2022, the WFP provided more than 550,000 people with emergency food assistance.
The Road Ahead
Though frequently facing the brunt of powerful droughts and an ever-growing inflation rate, food production is slowly increasing in Zimbabwe as farmers shift to more sustainable crops and receive help from humanitarian organizations such as the WFP and the UNDP.
– Chris Dickinson
Photo: Flickr
https://borgenproject.org/wp-content/uploads/logo.jpg
0
0
Jennifer Philipp
https://borgenproject.org/wp-content/uploads/logo.jpg
Jennifer Philipp
2023-01-31 07:30:09
2023-01-30 08:41:37
Drought-Resistant Grains Boost Food Production in Zimbabwe